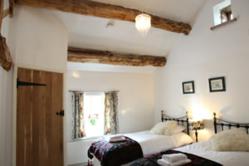 The UK's leading weight loss and fitness retreat
(PRWEB UK) 1 April 2012
The boot camp retreat clothing ranges from track suit bottoms to water proof outdoor walking gear.
The clothing has been designed with weight loss boot retreats in mind.
All the FitFarms clothing has double stitching and is made robust in certain areas to help with wear and tear.
The UK boot camp guest will automatically receive the 10% discount for joining the company on the residential weight loss retreat.
The seven day retreats are based in Matlock the Peak District and Dunster Somerset. The fitness boot camp is famous for setting up a controlled environment and guaranteeing results.
The average weight loss is over 8lbs, body fat percentages are known to drop by 7%, hip and waist measurements can also drop by an amazing 7 to 8 inches.
The boot camp retreat is by no means easy though. Guest are expected to wake up at six forty five and follow a fitness and weight loss programme until 9pm.
The weight loss retreat programme is not like a traditional military fitness boot camp schedule.
During the week the FitFarms guest will work on behaviour therapy changing the way guest feel about exercise and nutrition.
The company philosophy is sustainable health and weight loss making the retreat a company that is going to create long term permanent change.
When guest complete the seven day retreat programme they then begin a three month after care programme.
The aftercare programme has been set up to support the weight loss retreats guest post course and is an online and offline service.
The clothing will be available to purchase online from the FitFarms website.