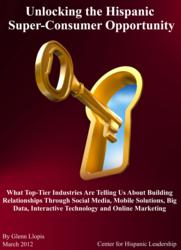 It's surprising that so few retailers have put much effort into learning about the Hispanic consumer and how to serve their needs
Irvine, California (PRWEB) April 04, 2012
The Center for Hispanic Leadership (CHL) recently announced the expansion of Business Consulting Services under its new Brand Development Framework, this time to address the needs of the retail industry as they relate to the burgeoning Hispanic market. The services will enable retailers to more readily build trust, loyalty and influence for their brands among the country's fastest growing community.
Based on research conducted by Global Market Inc. Hispanic consumer purchasing power is expected to reach an unprecedented $1.2 trillion dollars in 2012. This combined with the 2010 US Census shows the Hispanic population has surpassed 50 million makes Hispanics a fast rising consumer force in the United States and, by some accounts, the country's greatest hope for a sustained economic recovery. Hispanic growth is fueling an increase in buying power that is yet to be seen in other countries, one reason they have been named a super-consumer group.
"Given this knowledge, it's surprising that so few retailers have put much effort into learning about the Hispanic consumer and how to serve their needs," lamented Glenn Llopis, Founder/CEO, Center for Hispanic Leadership. "A notable exception is Walmart, which has been attracting increasing numbers of Hispanics to their stores by integrating them into all facets of its business, including merchandising, marketing, operations, and community outreach programs."
According to a recent study from AHAA (The Association of Hispanic Advertising) of Consumer Packaged Goods (CPG) companies and retailers, Walmart was one of seven companies named "best in class" at driving revenue growth through their leadership in the Hispanic market. This is compelling further evidence that business growth and success will come to those most adept at serving the Hispanic market.
According to CHL, brick and mortar retailers must also acknowledge another important fact: Hispanic online and mobile usage is among the highest of any group and continues to increase faster than the general marketplace. This has led to huge numbers of online buyers; 62% of Hispanic Internet users have made purchases online. As the fastest adopters of new technology, these Hispanic consumers provide myriad opportunities to connect with them online, via mobile devices, and through social media – where they can help retailers build their brands and keep them relevant.
Francisco Bethencourt, a Fortune 500 Multicultural Global Executive and expert at leveraging market trends, consumers insights and brand ideals to grow businesses, explains the paradigm shift in retail branding: "Hispanics, and consumers in general, increasingly trust more what their friends have to say about a brand they experienced than what a big corporation communicates in advertising. Advertising effectiveness is then greatly shaped by the social media pulse."
Retailers who want to stay competitive will have to capitalize on the power and scope of digital technologies, – creating a rich user online experience that is easy to navigate and transferable to mobile devices, says CHL. This last point is especially true for Hispanics, who are projected to spend $17.6B on mobile devices in 2012, as illustrated in a new Zpryme INFOgraphic and are more likely to research products, compare prices, and make purchases with their smartphones than other groups.
Many companies, such as Coca-Cola and Pepsi in the soft drink industry, are counting on mobile technology to enable the next big wave in selling to Hispanics and other demographic groups, location-based marketing. "Mobile technology allows marketers to make their brand more relevant locally, putting the brand positioning and message in the right context at the right time," said Mr. Bethencourt. "It also allows marketers to design engagement programs and promotions that are location sensitive, increasing tremendously their effectiveness and relevancy."
"Making a brand more relevant locally is especially important to retailers, who can use location based marketing to drive more business to their physical store locations," added Mr. Llopis. "With so much on the line, we must make sure retail marketing and advertising dollars are being well spent. Hispanics expect and deserve companies they do business with to understand and address their unique needs; retailers who connect and build relationships with these super-consumers will be the dominant players in their industry."
The Center for Hispanic Leadership can help companies reach the increasingly important but overlooked bilingual/bi-cultural Hispanic majority. Its Business Consulting Services are specifically designed to address the unique needs experienced in industries such as retail, direct sales, media & entertainment, and telecommunications. Among the many services available are those to build corporate strategies, develop brands and thought leaders, and align products and services to Hispanics, whether through social media, mobile devices, or general web presence.
As a starting point, CHL has developed a new white paper entitled, "UNLOCKING THE HISPANIC "SUPER CONSUMER" OPPORTUNITY: What Top-Tier Industries Are Telling Us About Building Relationships Through Social Media, Mobile Solutions, Big Data, Interactive Technology and Online Marketing."
For more information regarding the whitepaper, contact CHL Director of Client Relations, Annette Prieto at aprieto@centerforhispanicleadership.com.
Center for Hispanic Leadership is an Irvine, California based consulting firm that unlocks opportunities for business by giving Hispanic leaders and super-consumers a voice.