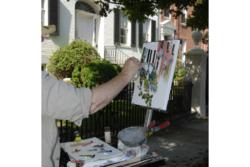 This event is gaining huge momentum both for art aficionados and among plein air artists.
Frederick, Maryland (PRWEB) April 02, 2012
Easels in Frederick, a plein air painting festival and competition, announces the artists competing this year from June 20-24, 2012. This second annual event occurs in historic downtown Frederick, MD, featuring the beautiful architecture and landscapes as the city comes alive for summer.
Artists from as far away as Washington State, Tennessee and New York City submitted paintings for Easels in Frederick.
"We were delighted with the number of submissions," said Carolyn Greiner, co-chair of Easels in Frederick. "This event is gaining huge momentum both for art aficionados and among plein air artists."
Acceptance juror John Budicin, from San Bernardino, CA, juried each submission. Budicin himself has won several major awards in the last few years, including six gold medals and numerous first place awards. He travels extensively to paint and teach throughout the U.S., Europe, and the Far East.
"The jury process requires a lot of expertise and objectivity, and we knew John would be an excellent juror since he possesses outstanding credentials in the plein air painting field," said Greiner.
Thirty established artists have been juried in to set up their easels Wednesday through Friday in downtown Frederick for the four-day event. The artists will be competing for more than $12,500 in awards plus the chance to sell their work at private and public exhibits over the weekend. New to Easels in Frederick this year are Thursday's special painting contest in a surprise venue and Saturday's Quick Draw contest that has juried and non-juried artists alike painting against the clock for awards—and selling their work right off their easels.
Easels in Frederick's 2012 juried artists are: Stephanie Amato, Basking Ridge, NJ; Bruno Baran, Nottingham, MD; Raymond Burns, Gaithersburg, MD; John Caggiano, Rockport, MA; Marietje Chamberlain, Washington, DC; Hiu Lai Chong, Rockville, MD; Rita Curtis, Baltimore, MD; Daisy de Puthod, Hopewell Junction, NY; David Diaz, Annapolis, MD; Beverly Ford Evans, Franklin, TN; Ellen Gavin, Millville, NJ; Luc Herbots, Port Republic, MD; Mark Hiles, Eldersburg, MD; Hai-Ou Hou, Stevensville, MD; Russell Jewell, Easley, SC; Shelby Keefe, Milwaukee, WI; Patricia Walach Keough, Carlisle, PA; Barb Kiwak, Baltimore, MD; Michael Kotarba, Baltimore, MD; Kirk Larsen, Hicksville, NY; Crystal Moll, Baltimore, MD; Richard Niewerth, Severna Park, MD; Barbara Nuss, Woodbine, MD; Anne Gibson Snyder, Braddock Heights, MD; Roberta Staat, Brookville, MD; Jason Tako, Dover, PA; Stewart White, Baltimore, MD; Mick Williams, New Market, MD; Will Williams, Towson, MD; Dennis Young, New Castle, DE.
Waiting in the wings are seven alternates: Deborah Maklowski, Ellicott City, MD; Dianna May, Nashville, TN; Lauren Andrech, Fair Haven, NJ; Jan Crooker, Kutztown, PA; Mick McAndrews, Downingtown, PA; Jacalyn Beam, Greenville, DE; and Stephen Hill, Lopez Island, WA.
Artists, residents, tourists, community members and aspiring plein air painters are invited to attend the festival and have the privileged experience to view what the artist sees and how he or she transforms each canvas.
Easels in Frederick is an all-volunteer committee working with The Delaplaine Visual Arts Center to organize and manage the 2012 juried plein air painting competition. The Delaplaine is a 501(C)(3) nonprofit organization and all charitable contributions are tax deductible to the fullest extent allowed by law. The Delaplaine remains the only arts organization to have been certified under the Standards for Excellence in Nonprofit Management by the Maryland Association of Nonprofit Organizations. The Delaplaine provides the Frederick region with educational opportunities and experiences in the visual arts through classes, exhibits, and programs.
For more information about Easels in Frederick and how to purchase your tickets for the Collectors Preview Reception and Award Judge's Talk, visit the event's website at http://www.easelsinfrederick.org or call The Delaplaine at 301-689-0656.
###