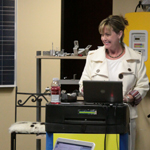 We teach...solar 'soup to nuts'
Murrieta, CA (PRWEB) April 02, 2012
Smith and her Ambassador Energy team will again be exhibiting at the Western States Roofing Expo June 24-27, 2012 at the Paris Hotel Convention Center in Las Vegas, Nevada. The team returns each year to this show as a means to meet and greet their current 90+ Solar Agencies, while building relationships with future Agencies. They can be found at booth number 900.
Throughout the four-day expo, training seminars and special sessions for attendees will be conducted. Ms. Smith's seminar will take place Tuesday, June 26th at 8am, where she will enlighten attendees on the benefits and challenges of adding a solar PV offering to contractors' current portfolios of services and products. She will highlight strengths and growth opportunities for the contractors, while being very candid about its being a highly technical offering and clear that it is not a fit for every contractor. Her goal is to be honest, concise and entertaining.
Smith leads her team at Ambassador Energy, where they train contractors who become a part of their Authorized Agency Program. In addition, Ambassador Energy is ISPQ certified. "We are one of only a handful of solar training companies in the US qualified to offer a five-day training course and test for the North American Board of Certified Energy Practitioners [NABCEP] Entry Level accreditation, and NABCEP continuing education credits," Smith said.
"We train contractors from all over the country each month at our offices in Southern California," she continued. "It is our responsibility to not only teach them how to install, but to train them on successful selling strategies, which include addressing roof condition, roof warranties and subtle nuances, such as appropriate Returns on Investments and Rate of Returns for the end-users. We always say that the installation is the easy part. We teach the 'Ambassador Energy Secret Sauce' to being successful at all of it – solar 'soup to nuts.'"
Ambassador Energy's education arm, Ambassador Energy College, offers Solar training courses including: Solar PV Design and Installation 32-hour course and NABCEP Entry Level exam; Prep courses for NABCEP PV Technical Sales and PV Installer; Advanced PV Design and Installation [qualifying for NABCEP continuing education credits]; AE's proprietary New Agency Boot Camp; AE's Solar for Electricians and Contractors classes.
About Ambassador Energy
Ambassador Energy [AE] has a three-pronged business model, including Ambassador Energy College Solar Training, the Ambassador Energy Agency Program and Ambassador Energy, an EPC contractor. On the training staff are NABCEP Certified PV Installers, NABCEP Certified PV Technical Sales professionals [Fulgham/Kelso] and multiple NABCEP EL graduates. AE Agencies are nationwide. Ambassador Energy EPC installs PV throughout California.
See us on Facebook.