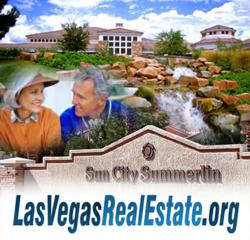 Sun City Summerlin Homes for Sale Are Most Popular Among Retirees
Las Vegas, NV (PRWEB) April 02, 2012
Sun City Summerlin was the first of four active adult community developed by Del Webb in Las Vegas and remains the most popular even after a decade. Sales stats released by LasVegasRealEstate.org shows almost a home a day being purchased in the last 12-months due to their affordability as retirees take advantage the lowest prices ever offered. The lowest price recorded this year was $72K for a basic 2-bedroom residence with the high price going to a sprauling single story with city view and pool on golf course for $550K
Ashley McCormick of Realty One, Nevada's number one Las Vegas real estate company, specializes in Summerlin homes for sale and says she has seen an increase in demand for active adult communities such as Las Vegas Sun City homes due to the lifestyle they provide. Most of these communities offer some of the top golf courses with state of the art fitness centers, pools and spas. New reports from CNNMoney, MarketMaket and Inman News all have Las Vegas mentioned as Top 10 cities to invest or buy. These communities also allow the residents to maximize their reach into social events and recreation they may not other wise be able to afford.
Sun City Summerlin homes for sale offer access to four community centers, five swimming pools, tennis and racquetball courts. Residents also can take advantage of three golf courses: The Highlands, The Palm and Eagle Crest. The 2,400-acre Summerlin Sun City community is home to more than 14,000 residents and just under 8,000 homes. This is a age restricted community providing a unique quality of life for it's fortunate residents offering up to 8o special interest groups and onsite entertainment events and dining.
McCormick says that the most common statement she hears from discerning retirees is that "even if the economy get's worse, at least I own my home and have a place to live". Retirees relocating to Sun City Summerlin Las Vegas for the affordable prices, active adult lifestyle and world class health-care are also discovering a second chance to rebuilt their retirement portfolio. The amount of all-cash buyers is confirming the confidence that retirees are showing in their decision to buy Las Vegas homes for sale. More information on Summerlin Sun City is available by contacting McCormick at 1-888-920-2292 or online at http://www.LasVegasRealEstate.org.