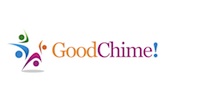 I'm excited to use social media for social good and to continue to encourage kids to lead healthier lives
Mclean, VA (PRWEB) April 03, 2012
Actor Matthew McConaughey announced today that he will partner with GoodChime! to challenge the public to a jump roping contest. McConaughey joins the Champions of Health on GoodChime! to foster greater awareness to the importance of healthy living and physical activity for young adults. Matthew McConaughey's Jump-A-Thon will challenge participants to live a healthy lifestyle. As part of the challenge, schools in the j.k.livin network will also participate.
"I'm excited to use social media for social good and to continue to encourage kids to lead healthier lives", said Matthew. "We are honored to be working with a legendary role model such as Matthew, and we are very excited about the success of the j.k.livin foundation and supporting its mission", said Dr. Potarazu, founder of GoodChime!
About GoodChime!
GoodChime!(tm) is a revolutionary new social media platform where people engage in meaningful dialogue within a safe community, and participate in activities relevant to their health needs. Leveraging the power of celebrity brand, GoodChime engages consumers as active participants in better managing their health.
http://www.goodchime.com/launch/matthew-mcconaughey
About Matthew McConaughey
World-renowned actor Matthew McConaughey had his first breakthrough role in Richard Linklater's 1996 film Dazed and Confused. McConaughey later starred in two high-profile films, "Lone Star" and "A Time To Kill". Soon after, McConaughey was hailed as one of the industry's hottest leading young men. McConaughey also starred in numerous romantic comedies including hits The Wedding Planner, How To Lose A Guy In 10 Days, and Failure To Launch. He will soon be seen in Bernie, Killer Joe and Magic Mike.
Matthew's acting roles received numerous nominations and awards including the Lone Star Film & Television Awards for Rising Star Actor in 1997, MTV Movie Award for Best Breakthrough Performance in 1997, and People's Choice Award for Favorite Male Action Star in 2006. In 2005, People Magazine also named him Sexiest Man Alive.
Beyond his work in film, McConaughey and partner Camila Alves started the j.k.livin foundation, which is dedicated to helping teenage kids lead active lives and make healthy choices so they can become great men and women. The foundation was started in honor of his father who passed away. Living out his life motto "just keep livin", Matthew continues to do charitable work through his foundation as well as evolving as an actor.