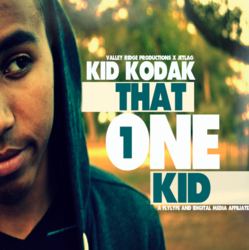 "Entangled in the ranks of Tupac and Martin Luther, but when you're great somebody's out there that's dying to shoot ya.."
Pensacola, FL (PRWEB) April 02, 2012
Kid Kodak has decidedly become the elephant in the room. No. He isn't covered from head to toe with tattoos and no, his entire album isn't an ode to marijuana or codeine. What it is however, is youthful fun. It embodies every element of life. Far more mature than the average 18 year old, Kid Kodak, definitely has a message for not only our youth but for the Hip-Hop culture. That message needs to be heard.
"That one track that really stood out to me was "Magic Carpet Ride (Feat. Bambino)", there's something about that hook.."-FreshNewMusik.com
The video single "11:59" captures Kodak comfortably within his very element. It's a deep journey through his mind, where he takes the listener into the his past, his concerns at the present, and his view of the future. "The title, "11:59" is described as being the moment before change for him and his team." -Zomobo.net