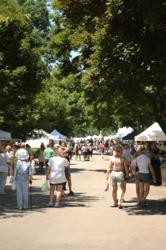 Stay and Play in Delafield, Wisconsin

Delafield is just minutes off the I-94 interstate, making it easy to get here and just as easy to come and go to the area's best attractions.
Delafield, WI (PRWEB) April 04, 2012
Delafield, Wisconsin, which is a charming city just 30 minutes west of Milwaukee, draws visitors year round because of its natural beauty and its vibrant boutiques, retailers, restaurants and hotels. Stay and play in the City of Delafield and enjoy events happening throughout the seasons!
Delafield Antique Show
(Friday – Sunday) April 27- 29, 2012
The Delafield Hotel, Downtown Delafield
At this popular biannual show, 70 dealers from the around the country bring American and English antique furniture from the 18th, 19th, and 20th centuries, as well as folk art, paintings, and accessories. Special hotel rates are available for show guests.
Summerfest Music Festival Shuttle
June 27 – July 8. Closed Monday, July 2
Shuttle pickup at Highway 83/I-94 – Naga-Waukee Park and Ride
Delafield is a convenient, hassle-free launch point to the world's largest music festival: Summerfest! Skip the parking and the traffic snarls that lead to Milwaukee's lakefront and rock out after being dropped off right at the fest's Main Gate. Summerfest shuttles stopping in Delafield make regular round trips so you can hop aboard throughout the 11-day festival run. Make plans to stay in the nearby Delafield hotels.
Lake County Art Festival
Saturday, July 14, 2012, 9am - 4pm
Naga-Waukee County Park, Delafield
Art lovers can shop for unique, custom art at this renowned event that's held outdoors in Naga-Waukee Park. Over 150 juried exhibitors display and sell their creations: ceramics, pottery, jewelry, wearable art, painting, woodwork, glass art, textiles and more!
Waukesha BluesFest – An American Music and Art Festival
Friday, August 10 and Saturday, August 11, 2012 - Music starts 1pm to 10:30pm each day
Naga-Waukee County Park, Delafield
Peaceful Naga-Waukee County Park comes alive with the soulful sounds of the Blues. 14 acts of musicians and bands take the stage at this two-day Blues music festival celebration! Don't miss the Waukesha BluesFest Art Show, a juried collection of photography, painting, pottery, glass, and jewelry!
Delafield Classic Car Show
Sunday, September 16, 2012
Downtown Delafield
Whether you favor hot rods, muscle cards or sleek sports cars, you can indulge your passion at the Delafield Classic Car Show, which celebrates the freedom of the open road and the history and memories of these beautiful automobiles.
Fright Hike at Lapham Peak
Friday, October 27 - Saturday, October 28, 2012
Lapham Peak Unit of the Kettle Moraine State Forest, Delafield
There's nothing like a good old-fashioned hike through dark and scary woods to herald in the Halloween season. Brave the 1-mile Fright Hike, filled with scary scenes and performers. Soothe your frazzled nerves afterwards with a stop at one of Delafield's restaurants, brew houses or coffee shops.
Throughout the Season
Hawk's Inn Museum Historic Tours
Saturdays 1-4 pm, May 5 – October 27
Wells Street, Downtown Delafield
Step inside this 18-room site registered as a National Register of Historic Places. Hawks Inn is a fully restored 1800s stagecoach stop, filled with history and artifacts from the period, including stories from the Hawks who ran the Inn.
SummerStage Outdoor Theatre
Performances June to September
Lapham Peak Unit - Kettle Moraine State Forest
SummerStage is the only outdoor theatre in southeastern Wisconsin. It brings musical performances, comedy, drama, and dance to the woods of the Lapham Peak Unit of the Kettle Moraine State Forest, just 2 minutes from Downtown Delafield.
Ten Chimneys Tours
10 minutes south in Genesee Depot, Wisconsin
Tours Monday through Saturday May 26 – November 10.
See the opulence light up every room as you journey back in time to the summer estate of Broadway legends, Alfred Lunt and Lynn Fontanne. Visit the estate for tours and special events. Advanced reservations recommended.
Old World Wisconsin
25 minutes south in Eagle, Wisconsin
Open Daily, May 1 through October 31, 2012.
Experience a true living museum that recreates life in the 1860s – Laura Ingalls Wilder style! Go to oldworldwisconsin.org to view upcoming events.
Stay and Play in Delafield, Wisconsin
Delafield is just minutes off the I-94 interstate, making it easy to get here and just as easy to come and go to the area's best attractions. Kick back and enjoy one of Delafield's hotels including the upscale Delafield Hotel, popular brands including the Holiday Inn Express and LaQuinta Inns & Suites, as well as the locally owned Country Pride Inn. Delafield is also home to a historic Colonial Williamsburg-styled downtown, lively shopping districts, and dozens of delicious local restaurants.
For guests who enjoy the outdoors, Delafield is just minutes from the finest natural recreational opportunities in the area, including 85+ miles of hiking and biking trails that wind through the nearby the Kettle Moraine State Forest and area trails.
The Delafield Tourism Council staff is happy to provide information on accommodations, transportation, and activities in and around the area. Find more information at: http://www.VisitDelafield.org or 888-294-1082.