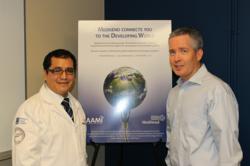 "Hospitals in emerging countries with the capacity to manage their own equipment are leaders in the development of a strengthened healthcare infrastructure," says Nick Hallack, President and CEO of MediSend.
(PRWEB) April 03, 2012
The successful advancement of healthcare in developing countries relies on the collaboration of many agencies and organizations. MediSend International and National Cancer Coalition (NCC) are exercising their collective experience working in developing country healthcare to aid in Peru's struggle to improve conditions for its people.
"The National Cancer Coalition is pleased to partner with MediSend," says Tom Roane, Senior Vice President of Alliances for the National Cancer Coalition, "The strategic and complementary alignment of our programs in this country will significantly improve care for Peruvian cancer patients and will help provide opportunities for complete healthcare solutions at Peru's principal public cancer hospital."
Healthcare in Peru presents multiple challenges including a system without sufficient infrastructure to accommodate a country with a wide-range of serious diseases. The Peruvian government is aggressively trying to improve healthcare conditions as much as possible and is working towards advancing their medical infrastructure as well as enhancing its reach to cover more of the nation's poor.
Peru's Instituto Nacional de Enfermedades Neoplásicas (INEN) is best known for its specialties in clinical care, medical education in oncology, and oncology research. INEN is under the jurisdiction of the Peruvian government through the Ministry of Health. Headquartered in the capital city of Lima, INEN is the largest public cancer hospital in the country with almost 350 beds. But, like many hospitals in developing country hospital systems, INEN is in need of trained professional biomedical equipment repair technicians.
"If crucial diagnostic and therapeutic equipment cannot be repaired and maintained, outcomes are adversely affected and lives can be lost. All too frequently, we are told of such occurrences in hospitals where there is no one to repair and maintain the equipment. Hospitals with the capacity to manage their own equipment are leaders in the development of a strengthened healthcare infrastructure," says Nick Hallack, President and CEO of MediSend.
MediSend is the leading international institute in biomedical technology education and training, and in that capacity has returned certified biomedical equipment repair technicians to hospitals in 16 countries around the world. Currently, Jhon Romero, a biomedical engineer from INEN, is participating in the 2012 Spring MediSend Biomedical Repair Training Program™ in Dallas, Texas.
Jhon will return to INEN as a certified Biomedical Equipment Technician (BMET) to help manage the maintenance and repair of the hospital's critical biomedical equipment. He looks forward to establishing a biomedical engineering department at the hospital with his colleagues. "We hope to put our own maintenance protocols in place. We also hope to develop calibration methods for the different equipment by establishing a metrology laboratory to perform these calibrations," he says recalling a story he read in the news about a person who died because of a blood pressure machine that was out of calibration in a Peruvian hospital. The grant for Jhon's six-month training program has been anonymously sponsored by a US Foundation.
National Cancer Coalition, the world's largest cancer-focused medical relief program, donates and distributes drugs and medical technology to treat people living with cancer and other serious diseases in the developing world. In a partnership with Becton, Dickinson and Company, a leading global medical technology company, NCC is conducting a cervical cancer early detection program to benefit 75,000 underserved women in rural Peru, in addition to having provided over $ 10 million in chemotherapy drugs to INEN over the past 8 years.
The partnership between MediSend and National Cancer Coalition pairs two leaders in strengthening healthcare for vulnerable populations and combines their successful implementation of programs in some of the world's poorest countries. The collaboration in Peru is part of a larger plan for the alliance in Latin America and Ghana, Africa.
# # # #
About MediSend
MediSend International is a non-profit 501(c)(3) organization that provides innovative programs and solutions that strengthen community healthcare in developing countries, including the professional training, certification and equipping of biomedical repair technicians and the distribution of medical supplies and biomedical equipment. MediSend's Global Education Center and distribution facility are located in the Elisabeth Dahan Humanitarian Center, MediSend's headquarters in Dallas, Texas. For more information on MediSend's mission and work in the developing world, go to http://www.medisend.org
About National Cancer Coalition
The National Cancer Coalition, a 501(c)(3) not-for-profit corporation, supports relief and research programs throughout the world. The Coalition's international medical assistance program provides requested specialty pharmaceuticals, essential medicines, hospital supplies and medical equipment to medical facilities that treat underserved patients in over 50 developing countries around the world. For additional information, please contact NCC at: 919-821-2182 or visit our website at http://www.nationalcancercoalition.org