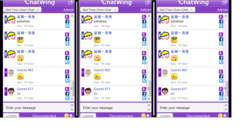 Philadelphia, PA (PRWEB) April 01, 2012
There are many ways people can benefit from chatting. The most significant benefit is information delivery. Another thing that cannot be neglected is the power of communication. This is where the Chatwing free chat widget comes in. Chatwing specializes in providing real-time communication for people all over the world.
Chatwing is definitely meant for everyone, but it is more beneficial for bloggers since it is a widget. Bloggers can now embed this website chat engine to their blogs, and their visitors can engage in entertaining chat right away.
Embedding Chatwing is mandatory for people to have chats on websites right away. A personalized widget appeals better to people and can even be another way to generate friends and contacts. A strong factor of Chatwing is the social network log-in method. Through this function, people can now log in using their Facebook or Twitter accounts. This makes personal information exchange easier and the ability to have instant chatrooms.
To embed Chatwing, the user must register his blog's domain name. He also needs to set up an official Chatwing account. The account will serve as his dashboard for all the widgets he is planning to use. Customization is the next step. In this step, the user can edit the height, width, color, and name of the widget. Once everything is complete, Chatwing will provide the HTML code needed for installation.
Advice blogs can definitely benefit a lot from Chatwing because of the rate of hits from visitors. This applies to advice blogs with moderate to high ranking. Visitors of advice blogs tend to talk and have chats about their problems. Chatwing provides an easier way of communication. This is a useful strategy that connects the bloggers to their readers easily.
About Chatwing.com
Chatwing.com has developed live chat software for websites and blogs. The Chatwing.com website offers users the ability to signup and create a customizable live chat feature in 1 minute or less. Users have the ability to customize the size, color, and fonts of the chat product. The ability to chat via social media accounts such as Facebook and Twitter enable Chatwing to offer a personal and unique real-time experience to all sites. Chatwing is 100% free web software.
http://www.chatwing.com