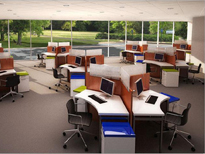 Your Office Agent are now signing more flexible property deals monthly than any other broker in the city and this multiple is set to double in Quarter 2
(PRWEB) April 03, 2012
Your Office Agent are now signing more flexible property deals monthly than any other broker in the city and this multiple is set to double in Quarter 2. When asked the secret of their success in such a difficult market Kostastina replied that it was the focus on her clients business plan needs rather than just finding office space that truly separated Your Office Agent from any other broker or consultant out there.
According to a recent research done by workspace giant, Regus Group, eighty five percent of U.S. companies now offer their staff some form of flexible working and Agile workspace specialists Your Office Agent are fighting to keep up with demand for their services to either find those companies managed office space all over the world or help them with their agile workspace efficiencies internally. Kostastina has personally had over 14 customers sign new flexible space commitments this month alone in New York and the demand is not letting up. The majority of those same companies are finding that flexible working is bringing them significant benefits, including reduced overhead expenses, improved staff productivity and better work-life balance. Additionally, 62 percent of U.S. businesses believe flexible working costs less than fixed office working and Your Office Agent are the leading global specialists in this area.
The vast majority of businesses offering flexible working assert their staff has significantly better work-life balance, improving satisfaction and motivation. In addition, half believe flexible working improves staff productivity, and 25 percent say leveraging a flexible workplace helps them scale quickly to cope with rapid growth. More than 30 percent of flexible working businesses also feel their policy helps them access a wider talent pool.
Your Office Agent is fast becoming an independent voice of change in the commercial real estate sector. We want companies to mirror their office space requirement to their short and medium term business plan rather than commit 95% of their real estate portfolio to long inflexible leases says Kostastina. Your Office Agents preaches the benefits of breaking working styles into home, mobile and office working on a daily basis to reflect the changing work styles of a changing world and position any company for survival in the future.
Your Office Agent charge no fee for initial agile working consulting and no fee forever for finding the ideal executive suite property or business class meeting room globally. For further information contact Kostastina at 800 600 0881, http://www.yourofficeagent.com or contact(at)yourofficeagent(dot)com