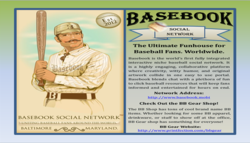 Whether a fan, writer, gamer, or collector Basebook members will gain access to a whole new baseball world that will keep them informed and entertained for hours on end.
Baltimore, Md. (PRWEB) April 03, 2012
For baseball fans from all walks of life, Basebook is the ultimate interactive fun house. It is a highly engaging platform where creativity, witty humor, and original artwork collide in one easy to use portal.
For fans that have been waiting for the arrival of a niche baseball social network to enjoy while soaking up breathtaking ballpark views, embracing the thunderous roar of the crowd, and enjoying the soul-soothing waft of fresh cut grass and ready to devour hot dogs, Basebook is a long time coming.
From an interaction standpoint, there is not much baseball fans cannot do on Basebook. As members, fans have their own wall where they can load profiles with pictures. Fans can also chat with friends and other fans, upload photos and videos of those exciting homeruns and diving catches, and write blogs about their favorite teams. Even better, fans can also check email, make friends, start groups, download music, post events and do a whole bunch of other cool baseball activities.
Yet there is much more to this new social network than collaboration.
"Basebook is truly unique in that our team has used our own creative flair to create a practical, easy to navigate fun to click social networking experience for all baseball fans," said Basebook's Founder and President James Morisette. "Whether a casual fan, aspiring writer, arcade gamer, or avid baseball card collector members will gain access to a whole new baseball world that will keep them informed and entertained for hours on end."
Besides its diversity, one of the most intriguing features about Basebook is that it gives users the ability to access baseball news, information, and entertainment, all from a single clickable sheet of original artwork inked by Phil Bartles, Basebook's Director of Art.
Whether a fan wants to use Basebook's Pre-Game checklist to plan their trip to the ballpark, read team news via Basebook's United News Tracker (B-U-N-T), or share the excitement of an acrobatically caught ball with friends with a photo, Basebook makes it easy.
"We wanted to make clickable art that was easy on the eyes for users," says Bartles, who is currently crafting a new monthly baseball superhero comic, Mickey Ninjacorn, set to release in June. "Creating these images makes it fun for fans to get to what they want fast no matter the technology being used."
Basebook also has a full blown shop integrated with the network where baseball fans can purchase cool Basebook apparel, drink ware, and items for the home and office. Basebook fans can access the BB gear by going to http://www.printfection/bbgear.
To celebrate the launch of their network, the Basebook team is holding a drawing local to the Baltimore community, where Basebook originates. The first 100 people to become Basebook members will enter a drawing to win two free tickets to a future Orioles game in 2012. First 1,000 members have chance to win a free Basebook prize pack. Both drawings will occur on 5 April 2012. Winners will be announced on Basebook's website at noon on Opening Day.
"Baltimore is the perfect place to launch Basebook," said Morisette, whose team is comprised of five Air Force veterans and a civilian programmer. "The town is rich in baseball history, and Camden Yards is one of the most beautiful ballparks in baseball."
To Join Basebook, go to http://basebook.socialgo.com/