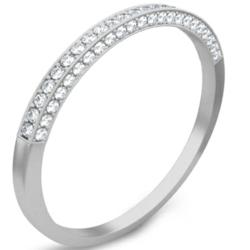 Princess cut diamond wedding bands are the main sellers in the wedding bands collection
Baltimore, Maryland (PRWEB) April 02, 2012
FineTresor.com a leading online Jewelry retailer of wedding bands and diamond rings, has announced a brand new collection of wedding bands, made with princess cut diamonds and round cut diamonds, both in white gold and yellow gold. The collection features wedding bands starting from $199 to 1 carat wedding bands for only $699.
Customers looking for princess cut diamond wedding bands would find a huge selection of diamond bands, featuring princess cut diamonds. The 1/4 carat princess cut diamond wedding band is on sale for only $249.99, while a full 1 carat diamond wedding band is on sale for $799. The bands can be customized with the customer's choice of white gold or yellow gold. "Princess cut diamond wedding bands are the main sellers in our collection, with customers attracted by our unique designs and affordable prices", says Veronica Kul, manager at FineTresor.com.
Since the wedding bands were introduced in the FineTresor collection over 2 years ago, the company has seen a high double digit sales growth, year after year. The new collection of unique designs with milgrain settings, to plain gold wedding bands with antique designs, would attract customers who are looking for high quality jewelry at low prices.
Customers looking for Round cut diamond wedding bands would also find a very unique collection which would definitely attract them with its low prices and unique quality. A half carat diamond wedding band with round cut diamonds is on sale for only $399. A full 1 carat round cut diamond wedding band is on sale for $899. The sale on wedding bands however is for limited time only.
FineTresor.com is a leading online jewelry retailer, based in USA. With its customer service focused approach, customers can find not online high quality engagement rings and wedding bands, but they would be attracted by cheap and affordable prices. For more information, please visit http://www.finetresor.com/wedding_bands.php