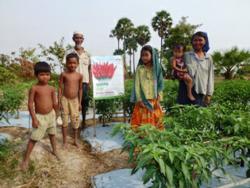 Agriculture Website - wwwVolkerKleinhenz.com
Phnom Penh, Cambodia (PRWEB) April 02, 2012
The Agricultural Website of Dr. agr. Volker Kleinhenz provides his Curriculum vitae, a number of presentations developed during his employment for scientific, commercial and rural-development companies, several packages of cultivation practices for production of different crops, and multiple publications. Besides this information the website also covers the global experiences of Dr. agr. Volker Kleinhenz. The latter experiences result from long-term employment in various parts of the world and from short-term consultancies. His visit to the Maldives as well as a consultancy in Ha Tinh Province of Vietnam are now covered by dedicated picture galleries on the site.
Volker's homepage includes a continuously updated Curriculum vitae. Besides his recent assignments as a referee for the premium international agricultural journal Scientia Horticulturae and the Journal of Agriculture and Rural Development in the Tropics and Subtropics (JARTS), Volker regularly conducts telephone consultancies. These consultancies cover agricultural topics including agronomic practices, particular crop industries, and agricultural value chains. These details are now included in his online Curriculum vitae and his downloadable Curriculum vitae.
The picture gallery "Cambodia" has also been updated to include the latest achievements of his work as Senior Advisor in Cambodia. The latest update focuses on his work with East-West Seeds International to improve livelihoods in one of the poorest provinces of Cambodia. It entails setting up of field demonstrations of commercial cultivation of vegetables including eggplant, chili, bitter gourd, tomato, sweet and glutinous corn, cucumber ridge gourd, mungbean, and yard-long bean in several communes of Kampong Chhnang Province of Cambodia. His current work includes the development and introduction of a "second" dry-season rice crop in the vicinity of the Tonle Sap River in several communes of Kampong Chhnang Province. In addition to the promotion of commercial vegetable production, particularly the latter development activity aims at doubling the production and/or income of smallholder farms in this province of Cambodia.
The above details are also available through Volker Kleinhenz's LinkedIn profile and his Twitter account @VolkerKleinhenz. A German website is available at VolkerKleinhenz.de.