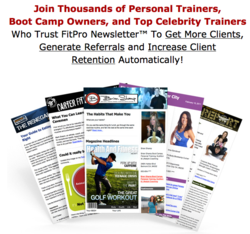 Marketing personal training services the old way is dead. Email marketing is the new fronteer
Chino Hills, CA (PRWEB) April 02, 2012
Fitness marketing expert Bedros Keuilian, the man behind many of the top earning trainers in the fitness industry, has upped the game once again by releasing FitPro Newsletter 3.0. This is the #1 personal trainer email marketing solution that works completely on autopilot. It is designed to generate more leads and stimulate referrals for fitness studio and boot camp owners and comprises the best methods for getting in touch with potential and existing clients.
"Marketing personal training services the old way is dead," said Bedros Keuilian. "After looking at our industry and seeing the trends in marketing it was obvious to me that personal trainer marketing in the new economy was all about online and social media."
The FitPro Newsletter provides a fitness email marketing solution that allows users to deliver content rich emails and newsletters automatically. It helps to burn the user's service and message into the minds of everyone who reads the newsletters, so when they are ready to hire or join the service they will automatically come to that service rather than going elsewhere.
"Advertising for fitness trainers has shifted recently," Bedros added. "It's now more common for people to search out fitness and fat loss solutions online. This makes the new version of the FitPro Newsletter the ideal online marketing tool. Not only does it build a prospect list, but it also delivers high quality content to the trainer's clients and prospects on a weekly basis."
The system is fully automated, with an inbuilt library of promotional emails that are ready to send. These are proven emails that have already worked for many other trainers.It is also capable of connecting to Twitter and Facebook, thus making online marketing in this way turnkey and automatic.
"The FitPro Newsletter 3.0 is a complete kit for getting more referrals and clients," Bedros points out. "It includes squeeze pages, opt in forms for eBooks, popup lead generators and consultation forms. The new version also contains auto posting to social media sites and a web version of every newsletter that is sent out, thus maximizing the ability to reach more people."
The FitPro Newsletter has been created by Bedros Keuilian to help make personal trainer email marketing easy to employ and use to its best advantage. The system works on autopilot and can be used by personal trainers, top celebrity trainers and boot camp owners. More information about the FitPro Newsletter 3.0 can be found by visiting http://fitpronewsletter.com.
To find out more about Bedros Keuilian, his company PTPower and the FitPro Newsletter, contact Bedros Keuilian on (800) 261-0208. Alternatively use the contact form at http://ptpower.com or send an email to Bedros Keuilian at support(at)keuilian(dot)com.