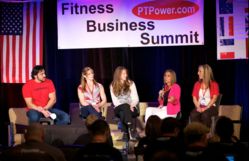 Each year I award a new Land Rover SUV to the mastermind member who has transformed their business, their life and their community the most
Chino Hills, CA (PRWEB) April 02, 2012
Bedros Keuilian, the owner of fitness marketing blog PTPower.com and creator of the mastermind program, has just awarded the Fitness Marketing Mastermind 2012 Member of the Year Award to Sean Francis. The mastermind program was created to help fitness entrepreneurs make the most of their business and increase their earnings.
"Each year I award a new Land Rover SUV to the mastermind member who has transformed their business, their life and their community the most," said Bedros Keuilian on announcing the award for 2012. "It's a tough pick because every single one of the mastermind members are working hard and seeing tremendous improvements in their business."
Sean Francis is a personal trainer from Canada who was making less than $4,000 a month when he joined the mastermind program. After 12 months in the program his monthly income is nearly at $20,000 and growing. This equates to nearly $192,000 a year more in earnings within the space of a year.
Bedros Keuilian was keen to announce Sean's award. "This year the winner was Sean Francis because his transformation not only came in the form of a better business and more income, but also a better life for him, his wife and his child. And at the end of the day, that is the true definition of success."
He went on to say that Sean's success formula was to take action on the systems and strategies Bedros gave him as part of the coaching process. Sean Francis has seen an impressive rise in his earnings since joining the program just a year ago. But it is typical of those members who are part of the program. On average each member will add another $100,000 to their income within 12 months of joining Bedros Keuilian's mastermind coaching program.
"The award can only be given to one person who is taking part in the mastermind coaching program," Bedros added. "But every one of the people taking part in the coaching has seen huge improvements in their business and their lives, making it a winning situation for everyone."
The mastermind coaching program has been created by Bedros Keuilian to help provide personal trainer marketing to those working in the fitness business. Bedros provides intensive coaching and support to those involved, as well as supplying actionable systems and strategies that can be put into action on a daily basis. For more information about the mastermind coaching program can be found at http://ptpower.com or by emailing support(at)keuilian(dot)com.
To learn more about Bedros Keuilian's mastermind and fitness business coaching programs, call (800) 261-0208 or send an email to support(at)keuilian(dot)com.