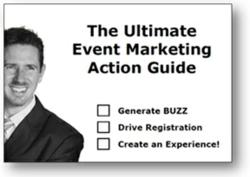 an incredible resource for professional meeting planners
San Francisco, California (PRWEB) April 01, 2012
Online marketing expert Patrick Schwerdtfeger announced the release of his highly tactical e-book entitled "The Ultimate Event Marketing Action Guide" free of charge for meeting planners. This 9-page PDF document offers step-by-step checklists to generate buzz and drive registration for business conferences and conventions.
The professional event industry is suffering from a surge of low-quality events. Platforms like Meetup.com make it easy for amateur group organizers to schedule activities, crowding the market with new events. Meeting planners need to use cutting-edge social media marketing strategies to make their conferences and conventions stand out from the crowd.
"People have event fatigue," explains Schwerdtfeger, "and it's difficult to tell the difference between good events and bad ones before registering." This free e-book helps professional meeting planners differentiate themselves from the competition. By allowing prospective attendees to sample the experience before registering, well-marketed conferences can generate buzz and drive registration weeks or even months before the event.
Meeting planners can download this free 9-page event marketing e-book free of charge on Patrick's blog. No email address is required. Recipients are asked to share the document with their professional colleagues, benefiting the meeting planning industry as a whole.
About Patrick Schwerdtfeger
Patrick Schwerdtfeger (@schwerdtfeger on Twitter) is a keynote speaker who has headlined events for Bloomberg TV, Bank of America, Comcast Cable, Research in Motion (BlackBerry), Time Warner Cable and United Healthcare among many others, as well as dozens of conferences and conventions around the world. His programs focus on business trends, small business marketing and the social media revolution.
Patrick is the author of the award-winning book Marketing Shortcuts for the Self-Employed (2011, Wiley) as well as Webify Your Business: Internet Marketing Secrets for the Self-Employed (2009) and Make Yourself Useful: Marketing in the 21st Century (2008). He has been featured by the New York Times, LA Times, San Francisco Chronicle, CNN Money, Fortune, Bloomberg Businessweek, the Associated Press, MONEY Magazine and Forbes, among others.
Patrick is available for television appearances and media interviews. He can be contacted through his website: