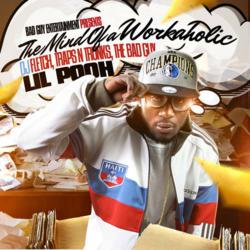 Miami, FL (PRWEB) April 02, 2012
Rap artist Lil Pooh recently released his mixtape "The Mind of a Workaholic." Coast 2 Coast Mixtapes and Bad Guy Entertainment present the project, which is now available for free download. "The Mind of a Workaholic" features Lil Pooh on tracks with guest artist appearances from Yung Dre, Heazy, Zavey, C Struggs, Chase Bankz, Lil Ray, Goony Spliff, and Lyric.
Darryl Stinnette, aka Lil Pooh (LP) was born in the fast paced city of Dallas, TX in 1986. At the age of 10, LP started writing rhymes and recording them on his mother's old boom box after finding himself grounded in his room for his constant troublemaking. LP was heavily influences by Southern music. He would sneak to listen to Southern legends like Master P, Pimp C and Cash Money. Thrilled that he had found something he was passionate about, LP started a rap group with a childhood friend, though it fell through when his parents relocated to Mesquite, TX.
LP never gave up on his first love, and soon started a new group called NST (Nauf SideTeam) and recruited other high school friends as members. They released their first mixtape, "Head to Head Classic," and began to distribute it through school, where the group soon caught a buzz. Falling back into his old ways, Lil Pooh started running the streets and neglecting his music—but after a two-year break, he started recording again and made a promise to himself to always pursue his music. Traveling on the road with his labelmate, he sat back and perfected his flow while networking with industry connects. In 2010, LP released his first solo mixtape "Str8 Up Menace," under his new label, Bad Guy Ent. He has since dropped a number of mixtapes and is working with mainstream DJs like DJ Fletch. Lil Pooh is working hard, releasing music and videos weekly at http://www.thebadguy.net.
"The Mind of a Workaholic" is available for free streaming and download at http://coast2coastmixtapes.com/mixtapes/mixtapedetail.aspx/lil-pooh-the-mind-of-a-workaholic