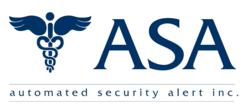 (PRWEB) April 02, 2012
In the ever-expanding world of healthcare options, Automated Security Alert is using the wildly popular website YouTube to feature videos that give the public a behind the scenes look at the services that the company is offering. The Pittsburgh-based company has a proven track record for unmatched customer service, but in a society where healthcare is a very competitive business, the new series of videos help to explain their services in a simple and understandable manner. Rather than bombarding customers with brochures and pamphlets with fine print or television commercials that advertise a brand rather than provide information, Automated Security Alert is offering a refreshing alternative.
Jason Seyler, the company's Director of Life Safety commented, "By using videos Automated Security Alert is able to reach people in new ways and help them understand the benefits of our technologies." One of the many advantages that the videos offer over more traditional forms of advertising is that links can be shared between family members through e-mail, which can make it much easier for adult children with senior parents to make informed decisions together. The YouTube videos are part of the company's initiative to reach and educate clients through social media. The technology that Automated Security Alert provides is affordable and easy to use, and can provide peace of mind to clients as well as their family members.
Automated Security Alert, Inc., has provided freedom and security since 1988 to over 60,000 consumers through the use of technology and services that enable seniors, physically-challenged persons and recovering patients to maintain an independent lifestyle in their homes. ASA's creative, dependable solutions include medical alert systems(personal emergency response systems); fall detection systems; telehealth and medication management systems, including electronic pill dispensers and monitored medication dispensers.
For further information, please contact Matthew Couillard at 1.800.338.7114.