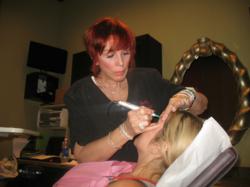 "Permanent makeup became popular with active women who care about their appearance because it works..."
Scottsdale, Arizona (PRWEB) April 02, 2012
This is no April Fool's Day joke. It happens every day. The goal is beauty. The results are botched. Imagine women having no way to wash off multi-colored eyebrows with different sizes and shapes, or a look of smeared lipstick 24-7. Cosmetic tattooing traumas taint faces across the U.S. due to bad permanent makeup procedures by poorly trained and unskilled technicians. The victims are unsuspecting women paying hundreds or thousands of dollars for the service while expecting the benefits of this popular solution for saving time and effort from the drudgery of daily makeup.
"Permanent makeup became popular with active women who care about their appearance because it works," says permanent makeup expert Sally Hayes. "It is designed to look natural for years, and give a woman added confidence and freedom, not have her trying to hide from people wondering, "What did you do to your face?'"
Over a 25-year career following training by plastic surgeons, Hayes has performed tens of thousands of successful procedures of permanent eyebrows, permanent eyeliner, permanent lip makeup, and cosmetic camouflage. Based in the beauty meccas of Scottsdale, AZ, New York, NY, Los Angeles, CA, and Las Vegas, NV, she is fixing permanent makeup mishaps more than ever. "Years ago I had maybe 3 bad fixes a month and thought that was high. Now I easily see 6 women a week begging for help from wearing a nightmare on their face they thought would be a dream come true."
Following traditional body art tattooing, permanent makeup, has exploded into a multi-million dollar industry. Also known as micropigmentation or permanent cosmetics, it is the art of precisely depositing hypoallergenic pigments into the dermis layer of the skin to create the appearance of makeup. However, inferior technicians are cashing in on the fact that uniform standards of licensing and certification in the industry do not exist, and minimal training requirements vary by state.
Medical professionals who refer to Hayes agree the permanent makeup gone wrong problem is real. "It seems to be a case where the number of highly skilled and experienced permanent makeup artists does not yet meet the demand," observes popular Las Vegas, Nevada Cosmetic Surgeon Julio L. Garcia, M.D. "Unfortunately, the damage can be done by the time the woman realizes all permanent makeup artists are not equal."
Jody Comstock, M.D of Tucson, Arizona,. a partner in state's largest dermatology practice believes in the value of permanent makeup but warns is a matter of "Buyer Beware" for now. "To be safe, you must do your homework and only trust your face with a proven permanent makeup professional," says Comstock. "Search the internet, get referrals from your doctor, or women whose permanent makeup you like. Otherwise you could be facing laser treatments or even surgery to have bad permanent makeup removed."
Phoenix TV hair stylist Marilyn Banks was such a victim. 4 different artists took her on an emotional roller coaster from wanting permanent eyebrows to hating them to hating them more to finally loving them. "It was painful because I couldn't hide the problem from others or myself," says Banks. "Just think how a pimple on your face can ruin your day. Trust me, this was worse."
Today's women lead active lifestyles and feel judged on their appearance. Most see wearing makeup as a must in the workforce and their personal lives. So consistently looking good without embarrassing smudges, smears, or run-offs has created millions of permanent makeup supporters. "Permanent makeup helps women look and feel more confident, beautiful and even more youthful, while saving time and hassle every day," said Hayes. "I provide a great service with tremendous value. What's not to like about permanent makeup other than some technicians who have no business doing it?"
About Sally Hayes Permanent Makeup
Sally Hayes is the permanent makeup industry's leading expert artist. She is referred and endorsed by many of the country's top cosmetic surgeons, and has successfully performed tens of thousands of permanent makeup procedures as a full-time permanent makeup artist since 1988. Her popular website is viewed as the leading online authority for information on permanent makeup.
For more information, visit http://www.permanentmakeup.com.