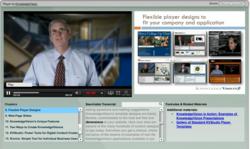 It seems a natural fit to match KnowledgeVision, the world's most flexible online presentation platform, with Kaltura and its open-source video flexibility.
New York, New York (PRWEB) April 02, 2012
Online video presentation provider KnowledgeVision Systems is now offering advanced online presentation capabilities to customers of Kaltura, the open source online video platform. KnowledgeVision for Kaltura helps producers and presenters take advantage of their investment in Kaltura to deliver interactive rich content to their audience. Kaltura's more than 100,000 users can now combine the flexibility of the Kaltura open-source video management platform with the presentation synchronization capabilities of KnowledgeVision.
"Open-source flexibility has brought Kaltura a large and growing base of advanced rich content producers," said KnowledgeVision CEO Michael Kolowich. "It seems a natural fit to match KnowledgeVision, the world's most flexible online presentation platform, with Kaltura to provide a total online presentation solution for Kaltura customers."
Through this integration, Kaltura customers can incorporate videos stored in their Kaltura library to provide an interactive on-demand experience for viewers. The hosted videos become part of interactive KnowledgeVision presentations that include presentation slides (such as PowerPoint), live websites, photos, virtual handouts, text transcripts, and selectable chapter playback. KnowledgeVision presentations are used for sales enablement, content marketing, online training, and corporate communications.
The new KnowledgeVision-Kaltura integration will allow users of KnowledgeVision's advanced authoring tool, KVStudio. to merge Kaltura videos into KnowledgeVision presentations.
KnowledgeVision can also be used to add presentation slides to live video webcasts originated through the Kaltura platform and broadcast to thousands of simultaneous viewers around the world.
KnowledgeVision is debuting its integrated solution today at Kaltura DevConnect 2012, the Kaltura Community Annual Conference, and tomorrow at Kaltura Connect 2012, the Kaltura Annual Customer Conference. KnowledgeVision and Kaltura will also hold a joint webinar, "Building Rich Online Video Applications", on April 12th at 9am EDT.
View an online demonstration of the KnowledgeVision presentation, using Kaltura-hosted video.
About KnowledgeVision Systems
KnowledgeVision is single-mindedly focused on making online video work harder:
--to make it perform better as a content marketing tool;
--to make it more impactful as a sales tool;
--to make it more engaging as a learning tool; and
--to make it more effective as a corporate communications tool.
Clients all over the world use KnowledgeVision's tools to create orchestrated online video and audio presentations that combine their best communicators with PowerPoint slides, web pages and applications and supplemental material, and make them available from web browsers and mobile devices anytime, anywhere.