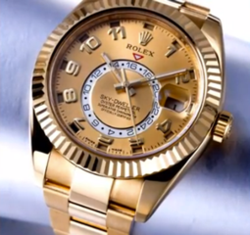 New York, NY (PRWEB) April 02, 2012
Haute Time, the ultimate resource for luxury timepiece aficionados, is flooded with new content from Basel World 2012, including exclusive videos of the newest haute timepieces. Haute Living Co-publisher and Haute Time curator Seth Semilof got the opportunity to check out the Rolex Oyster Perpetual Sky-Dweller, a piece far from ordinary.
To begin with, the Rolex Sky-Dweller boasts five new patents out of fourteen, and features a dual time zone and a 24-hour display. A Saros annual calendar has the capability to distinguish 30 and 31-day months. The bezel has three positions: one for setting date and month, one for local time and a third for reference time, respectively.
The incredible workings of the piece are highlighted by an exquisite sleek design true to Rolex fashion. Sky-Dweller comes in white gold, yellow gold and pink gold complete with an alligator strap.
Set to debut in the fall of 2012, the Rolex Sky-Dweller will be one of the hautest watches on the market. Get a preview here.
Gaining an inside look at the industry's star timepieces directly from the company CEOs demonstrates the respect and passion Haute Time reserves for luxury watches and their corresponding brands. Explore the many wonders of Basel World 2012 at http://www.HauteTime.com.
http://www.hautetime.com/feature/haute-time-presents-exclusive-look-of-the-rolex-sky-dweller-at-basel-world-before-fall-2012-launch
About Haute Time
Haute Time curators realize that luxury watches are more than style statements; they're representative of an individual's personality, aesthetic and attitude. The site features the most recent news in all things time, including new releases from the top brands, interviews with those helming these upscale watchmakers and a watch locator, which provides site visitors with authorized retailers nearby to them. Hautetime.com is frequently revised to reflect the latest in news, collections and brands, including Ulysse Nardin, Bell & Ross, Omega and beyond. Our experts regularly review the latest pieces and happenings in the market, including updates from Patek Philippe and Audemars Piguet.
# # #
For more information, please visit: http://www.hautetime.com