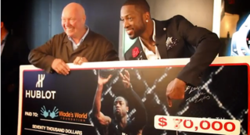 A luxury watch is a watch that has a soul
Miami, FL (PRWEB) April 02, 2012
Last week, Haute Time took over American Airlines Arena in Miami, Florida to showcase and celebrate Hublot's latest release, a Miami HEAT-themed watch, alongside Chairman JC Biver and HEAT stars Dwyane Wade and Udonis Haslem. Biver and Wade stepped away to discuss the haute piece and talk a little about what the luxury watch means to them.
Biver first presented Wade with his own HEAT Hublot, which he quickly fastened to his wrist. Wade then jumped in with the question of the hour for Biver: What is luxury, and does it have to be expensive?
Biver replied the way only a seasoned and passionate timepiece creator could. "A luxury watch is a watch that has a soul," he said. "When the product is made with love—is made with the hands of men and the hands are putting love into the product—that is, for me, luxury."
Later, Wade weighed in on what the luxury timepiece means to him. "I always feel like watches complete the outfit. Whenever I'm getting dressed, whether I'm putting on a suit, like today, or shorts and a polo, my watch is the last thing I always put on…it takes it to another level," he said. "You're not complete until you put your watch on your wrist."
We agree. See Wade represent his team with the sleek new piece and view the full video interview here. http://www.hautetime.com/feature/haute-time-presents-hublot-vip-event-with-miami-heats-dwyane-wade-udonis-haslem
About Haute Time
Haute Time curators realize that luxury watches are more than style statements; they're representative of an individual's personality, aesthetic and attitude. The site features the most recent news in all things time, including new releases from the top brands, interviews with those helming these upscale watchmakers and a watch locator, which provides site visitors with authorized retailers nearby to them. Hautetime.com is frequently revised to reflect the latest in news, collections and brands, including Ulysse Nardin, Bell & Ross, Omega and beyond. Our experts regularly review the latest pieces and happenings in the market, including updates from Patek Philippe and Audemars Piguet.
# # #
For more information, please visit: http://www.hautetime.com