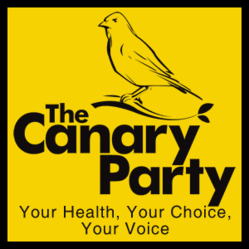 "We want to end the autism denial and demand that the government wake up; this is an emergency," Mary Holland, EBCALA director.
New York, NY (PRWEB) April 02, 2012
The Canary Party and other grass roots organizations gathered today to demand drastic action in response to the government's failures in addressing the autism epidemic, after CDC releases new autism numbers showing that the autism rate doubled in five years.
This morning, the Canary Party joined a group of grassroots autism organizations in a press conference in Manhattan to discuss how we have reached the catastrophic rate of 1 in 88 children, and 1 in 54 boys, having autism in this country. The Age of Autism, AutismOne, Autism Action Network, Autism File, The Canary Party, Center for Personal Rights, The Coalition for Safe Minds, Elizabeth Birt Center for Autism Law and Advocacy, Focus Autism, National Autism Association and Talk About Curing Autism have declared that this is a national health emergency, and that our government has failed us.
The video from the press conference can be found at http://CanaryParty.org.
The Canary Party and her partners believe that the current situation is intolerable and will not remain silent, watching more children and more families face the overwhelming burdens of autism. Together our groups are demanding that:
1. Secretary Sebelius fire those who have been in charge of autism policies in this Administration. Dr. Insel, chair of IACC must be fired. The new members of IACC should all be dismissed, and the new Chair of IACC should commence a new search for committee members.
2. Secretary Sebelius meet with a group of representatives from this coalition to discuss the autism health emergency. It is clear that the Secretary is disengaged and does not comprehend the urgency of this situation.
3. The views of all presidential candidates on autism be are clear. President Obama called himself "the Autism President" in 2008 and said that he would help to solve the crisis. He will stand on his record. This is an issue that this community will vote on.
4. The General Accounting Office study past autism funding to see why almost all money went to genetic research, which we now know, based on peer-reviewed science, is not the predominant factor – environment is. We want to understand if corporate interests or other improper interests distorted research priorities.
5. Hearings in the Government Reform and Oversight Committee of the U.S. House of Representatives be held. It is time for Congress to examine the role of the federal authorities in this crisis. No Congressional committee has looked seriously at the conflicts of interest and inaction towards autism in almost a decade. As part of this process, Congress must examine the Vaccine Injury Compensation Program and how it has been quietly acknowledging autism as a vaccine injury for almost 25 years. We need real inquiry by our representatives into this government debacle.
Canary Party Chairman Mark Blaxill, speaking on behalf of these organizations, representing tens of thousands of families, have committed to the public and to officials that, "We are not going away. We cannot. We all live with autism every day in one way or another. We will not stop pushing until we get accountable leadership and until we reverse this devastating epidemic."