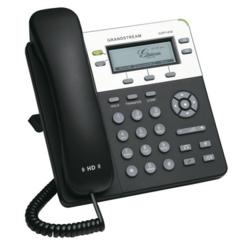 The compatibility of the GXP1450 with any of the 3 V2VIP™ Calling Plans creates an excellent solution for any size business.
(PRWEB) April 04, 2012
Wind Currents Communications, Inc. (WCCI) has completed compatibility and performance tests of the Grandstream GXP1450 IP phone on its V2VIP™ service platform. All features of this product are certified to ensure full interoperability and is now available as an auto-configured, plug-and-dial solution.
GXP1450 is a 2-line enterprise-grade desktop IP phone with backlit LCD display, 802.3af Power over Ethernet (PoE), and dual switched Ethernet ports. It includes a full-duplex speakerphone with wideband HD audio capability and advanced acoustic echo cancellation.
WCCI's remote provisioning saves both time and costs of managing, preloading, and reconfiguring customer premises equipment.
"Grandstream developed this under $70 phone with businesses of all sizes in mind. Excellent sound quality, relevant features, and ease-of-use combined with a V2VIP™ Business Calling Plan address the requirements of traditional business users, while exploiting the advantages of IP telephony," says CEO John Monahan.
V2VIP™ or Voice and Video Internet Phone service is a fully managed, hosted Voice over IP platform that includes an Auto-Attendant. Get two (2) lines for the price of one and choose a plan based on your minutes usage requirements.
V2VIP™ Internet phone service, video phones, video softphone and IP phones are smart affordable investments for single offices, companies and healthcare agencies to upgrade service, while slashing monthly telephone costs.
About:
Wind Currents Communications, Inc. was established in 2007 as an Internet Phone Service company specializing in Voice-and-Video-over-IP products and calling plans, by Wind Currents, Inc., a 15 year-old POTS video corporation. "TelePresence is a reality we've been marketing since 1997," Monahan says, "and now is the optimum time to leverage the value and benefits of V2VIP™ services and products for business video telephony and telecommunications needs."
Wind Currents Communications, Inc. was established to serve its clients and customers with exceptional quality and cost-effective products bundled with V2VIP™ services for small-to-medium businesses, telemedicine and telehealthcare service delivery, government, and security/monitoring applications.
Call: 877 4BIZ V2VIP (877 424 9828) • info(at)wccivoip(dot)com
# # #