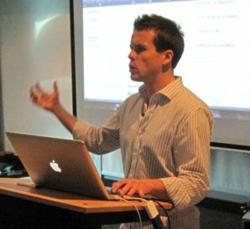 Only by actually using a product or service can one truly recommend it. - David Jenyns, SEO Expert
Melbourne, Australia (PRWEB) April 13, 2012
An increasing number of online business products and services are launched to the internet marketing community every day. Skillful copywriting often creates the impression that they are all must-haves, but Melbourne SEO Services principal, David Jenyns is now cutting through the 'what to buy' confusion with a new website, DaveApproved.com.
"Only by actually using a product or service can one truly recommend it" says David. "Too often internet marketing reviews are published by affiliates who are chasing the sale, rather than having their clients' best interests in mind."
Mr Jenyns not only guarantees that he uses, and personally recommends the products reviewed, he also monitors SEO services review data and shares it with DaveApproved.com visitors.
Through this newly launched website, Mr Jenyns is offering bonuses to purchases of those products - regardless of whether they buy through him, or someone else.
"It is my way of congratulating purchasers for taking action to really improve their online business" said David, head of one of the major SEO Melbourne businesses. "All of the products that I feature on DaveApproved.com are just that - approved by me."
Details of the bonuses on offer are available at http://www.DaveApproved.com
About Melbourne SEO
MelbourneSEOServices.com is a full service search engine optimization (SEO) consultancy, based in Australia, but with a worldwide client base.
Known for being at the cutting edge of strategic SEO practices, the company delivers a growing suite of services including: on-page and off-page search engine optimization, article distribution, Google Places listing, SEO press release service, web video production one-on-one consulting, and now corporate SEO training
Melbourne SEO Services Director, David Jenyns, has, over several years, built a team of experts who are niche experts to support the business, and who share his ethos for ethical, professional internet marketing.
More about David Jenyns at http://www.melbourneseoservices.com/seo-experts/