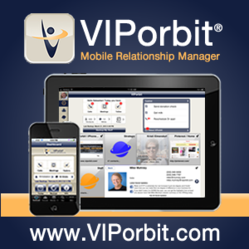 I believe the way forward is to focus on the core principles of relationship management and on building relationship value on a personal level, said Mike Muhney, ACT! Co-Inventor and now CEO of VIPorbit Software.
Dallas/Fort Worth, TX (PRWEB) April 02, 2012
ACT! co-inventor Mike Muhney has a vision for relationship management software, based on 25 years of experience in the market he helped create. Mike Muhney and his then business partner, Pat Sullivan, launched ACT! on April 1, 1987. With ACT!, they produced a best-selling product that digitized the Daytimer® era, and created the contact management software category, which was a catalyst for the multi-billion-dollar customer relationship management (CRM) software category.
Today, Muhney remains passionate about helping people and businesses build and leverage relationships to achieve greater interpersonal success. As co-founder and CEO of VIPorbit®, Muhney is focused on delivering relationship-building technology designed for the way people work today, and he created a new category to define it – Mobile Relationship Management. With ACT!, Muhney and team delivered software that enabled users of the device of the day, the laptop, to manage contacts and activities. With VIPorbit, Muhney and team have empowered iPhone® and iPad® users with an integrated app that manages relationships, calendars and communications (including via social media).
Muhney shares three relationship management insights that guide him today at the helm of VIPorbit:
1) Mobile
Mobile technology, specifically smartphones and tablets, has facilitated anytime/anywhere collaboration and communication. It's a platform that challenges the traditional top-down CRM transaction- and reporting-based model for managing business relationships. CRM is a multi-billion dollar industry, yet there are less than 20 million users worldwide. There are 1.5 billion smartphone users, a huge untapped market. And, mobile app affordability provides access to solutions formerly available at higher price points.
2) Powerful, Yet Simple
When it comes to managing relationships, mobile users want robust tools that provide the functionality they need and expect. The key is to deliver a relevant solution with the right set of features and a rich user experience.
3) Personal
While the explosion of social media has provided many ways to connect with people, "contact-centric" professionals are looking for tools to help them find, build and leverage meaningful personal relationships. The very nature of relationships at the user level requires protection of information in order to establish trust. Successful business is and always will be the result of successful relationships.
"Sometimes it's only possible to get a proper perspective through the lens of time," said Muhney. "I believe the way forward is to focus on the core principles of relationship management and on building relationship value on a personal level. If individuals and companies do that, everyone's goals will be met."
Watch Mike Muhney's personal video message congratulating ACT! on its 25 year anniversary on the VIPorbit YouTube channel at http://youtu.be/7LSG6ZJaRio.
About Mike Muhney
Mike Muhney is the co-founder and CEO of VIPorbit and the co-inventor of ACT!, the best-selling contact manager originally from Contact Software International, a company he co-founded. With ACT!, the company created the contact management software category, a precursor to the booming CRM (customer relationship management) industry. Muhney is internationally regarded as an expert on building business relationships and relationship management software.
Muhney is the co-author of "Who's In Your Orbit?: Beyond Facebook - Creating Relationships That Matter." The book is available in both paperback and digital editions and can be purchased at http://www.whosinyourorbit.com.
About VIPorbit
VIPorbit Software International, Inc. creates Mobile Relationship Management Software that helps businesspeople build sustainable relationships, which leads to greater success.
VIPorbit is the only full-featured device-resident Mobile Relationship Manager designed for the iPhone and iPad. It provides mobile professionals with an affordable, easy-to-use, anytime/anywhere solution that allows them to deal with more people, more effectively, elevating the value of their relationships. VIPorbit for iPhone was named a winner of Macworld's Appalooza Contest of the "25 Greatest Apps of All Time," along with some of the most noteworthy iOS apps on the market, such as Angry Birds, Evernote, and Pandora.
VIPorbit for iPad is US$9.99 and VIPorbit for iPhone is US$4.99. VIPorbit Lite for iPad and VIPorbit Lite for iPhone are free versions limited to 100 contacts. All products can be downloaded from the App Store. Users can purchase Backup My Stuff in-app for $4.99 a year.
Visit http://www.VIPorbit.com for more information, and follow the company at http://www.facebook.com/VIPorbit, @VIPorbit on Twitter and http://www.linkedin.com/company/viporbit.