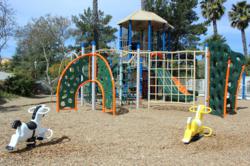 Playcraft Hybrid Custom Play Structure, Consisting Of Climbing Walls, Climbing Nets, Activity Panels And Two Fun Slides
San Diego, CA (PRWEB) April 03, 2012
Pacific Play Systems, Inc., a San Diego Commercial Playground Equipment company announces the completion of Playcraft commercial playground equipment installation at Camino Bernardo HOA, located in San Diego, CA. The project consisted of two play areas and is scheduled for opening on Wednesday April 4th, 2012. The first play area is in the vicinity of the club house, adjacent to the existing turf area and consists of Playcraft Hybrid composite playground equipment, designed for children in the 5-12 age group, along with a number of free-standing playground equipment components, such as spring riders and spinners for younger children. Scope of work for this play area included site preparation, demo and hauling of existing picnic area, removal and disposal of excess site materials, and installation of the new Playcraft playground equipment over 12 inches of engineered wood fibers.
The second play area is a half basketball court, created by the removal of the old playground equipment and the replacement of the existing sand surface with a new concrete slab, which now accommodates a high school regulation size half-basketball court, consisting of a Playcraft basketball unit. The new basketball court is designed to accommodate children as well as adults living at the HOA.
The planning stage of the playground project took several months to complete and consisted of a careful due diligence process by the playground committee and its chairman. During this phase, the playground committee considered several playground equipment companies and through the process of elimination, narrowed it down to three companies. Each company provided a proposal for the playground equipment project, followed by a formal presentation to the HOA Board. At the end of the process, Pacific Play Systems, a local San Diego company, was selected due to their superior design, the high quality of their Playcraft playground equipment and their competitive overall cost.
Once the project was awarded, it took Pacific Play Systems approximately eight weeks to complete the project. The equipment was custom designed and manufactured by Krauss Craft, Inc. who is the west coast manufacturer of the state-of-the-art Playcraft playground equipment. Pacific Play Systems is the sole distributor of Playcraft products in Southern Cal. The playground equipment took approximately six weeks to manufacture and another two weeks to install. The overall cost for the project, including demo, hauling, grading, supply and installation of playground equipment, safety surfacing and court surfacing was approximately $100,000.
About Pacific Play Systems, Inc.
Pacific Play Systems, Inc. is a San Diego playground equipment company engaged in the design, supply and installation of commercial playground equipment and related products and services for parks, schools, military housing, preschools, homeowners associations, apartments, churches and other commercial entities. As a full service commercial playground equipment company, Pacific Play Systems offers its customers a complete package, which includes a free evaluation of their existing site facility followed by a custom design proposal at no cost or obligation. Pacific Play Systems delivers and installs playground equipment and related products and services in San Diego, Orange, Riverside, San Bernardino, Imperial and Los Angeles counties. Pacific Play Systems specializes in the design and installation of economical playground equipment for apartments, homeowners associations, parks and schools. In addition, they offer a wide range of shade structures, sports equipment, soft-contained indoor playground equipment, water park equipment, playground safety surfacing and site furnishings.