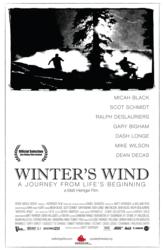 A journey from life's beginning
Los Angeles, CA (PRWEB) April 02, 2012
Verde Media Group is pleased to announce that The Sun Valley Film Festival was a huge success for all involved. "Winter's Wind" opened the festival with two sold out screenings. The following after-party at Whiskey Jacques sponsored by Verde Media Group (OTC: VMGI) with Dj Logic and The Aerolites had everyone grooving till dawn and set the weekend off with a bang.
The rest of the festival was loaded with 60 other films that touched all genres from music to philosophy. "It was a pleasant surprise when the festival sold out of more than 49 films in our lineup and we had the opportunity to meet Sun Valley's demand for second screenings for more than ten of the films," said Executive Director Teddy Grennan. "All along we had been hoping for a base hit, but with the valley's overwhelming support, it felt like we stole second."
By the end of the weekend the festival was a home run and with the support of all the sponsors and Zions Bank the Sun Valley Film Festival will be back for years to come.
"Winter's Wind" also received a great article and praise in Powder Magazine. Link to the article- powdermag.com