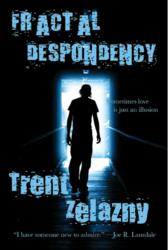 "Trent Zelazny has already begun to carve out his own genre niche. He's got the right stuff to make fiction both engrossing and literate."
—Tom Piccirilli, winner of two International Thriller Awards and four Bram Stoker Awards
Santa Fe, NM (PRWEB) April 03, 2012
In keeping with Trent Zelazny's quirky and playful nature though, that's far from the end of the story. When the first one hundred copies of Fractal Despondency have been purchased, Zelazny plans to parody the popular Rebecca Black song 'Friday' with his own video version. When the second hundred copies are sold, then Zelazny's fans and followers will be able to vote and select a second song for him to parody, with a new song offered for every one hundred sales.
"As a recovering alcoholic myself, I understand how significant places like Santa Fe Recovery Center can be to addicts seeking help with nowhere else to turn." Zelazny explained. "It seems appropriate for the money from Fractal Despondency to be used to assist people experiencing similar problems. I hope my plan to make a fool of myself singing on video will encourage people to pick up a copy, and contribute to this cause. I also hope they enjoy the book, but that's a whole other issue, really."
Praise for Zelazny's novels, novellas and short stories is vast, including recommendations from award-winning and best-selling authors such as Neil Gaiman, Joe Lansdale, Tom Piccirilli and Charles Ardai. With Fractal Despondency currently on sale for just $1.49 at Amazon, now is the perfect time to kill three birds with one well executed stone-throw! Enjoy a great read from a talented up and coming writer, contribute to a worthy cause, and be entertained with some whimsical antics!
Trent Zelazny is the author of the highly praised novella Fractal Despondency, as well as To Sleep Gently, Shadowboxer, The Day the Leash Gave Way and Other Stories, Destination Unknown, and A Crack in Melancholy Time. His novella Butterfly Potion will soon be released by Nightscape Press. He was born in Santa Fe, New Mexico. He has lived in California, Oregon, Arizona, and Florida. He currently roams throughout the country aimlessly. He also loves NBA basketball.
He is the creator of Book Pimp on facebook
https://www.facebook.com/groups/234865179915825/
Trent Zelazny on facebook
https://www.facebook.com/profile.php?id=1675890931