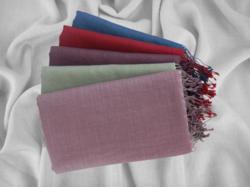 Pashminas are the perfect accessory for Passover
Houston, TX (PRWEB) April 03, 2012
Finding the perfect outfit for Passover just got easier. In honor of the annual Jewish holiday, The Pashmina Store, one of the largest online sources of pure, grade A cashmere, is offering 10% off purchases over $40. The Pashmina Store added several new colors to its line of sheer Water stoles just in time for this season's hottest Spring trends. Shoppers may enter PASS 2012 during checkout to take advantage of extra value pricing from April 3rd through April 14th.
"Pashminas are the perfect accessory for Passover," said Blair Rhodes, co-owner of The Pashmina Store. "Whether its our ladylike pastel pashmina Water stoles, soft neutrals or wild animal prints, women will be sure to stay on trend this Spring, while keeping bare shoulders covered in classic luxury."
The Pashmina Store offers the following "Perfect Picks" for Passover this Spring:

Color-block Craze - New sherbet-inspired Water stoles offered in rose pink, blue and orange capture Spring's fresh feel. These stoles pair well with colored denim, layer easily for fun color-blocking, and are sure to brighten up any room.
Ladylike Charm - The Pashmina Store's Water stoles in even softer palettes of light blue, pink and blue atoll fall in line with breezy, beach-inspired Hollywood glamour.
Monotone Magic - Elegant neutral wraps in popular black, silver, grey and gold add sophistication to this Spring's popular monotone outfits.
Safari Style - The Pashmina Stores exotic skins in cheetah, zebra, leopard and snake pair beautifully with Spring's adventurous, safari-inspired khaki skirts and linen or cotton tops.
The Pashmina Store's stoles and wraps are offered in more than 50 colors in multiple weights, prints and sizes, suiting every woman for every occasion year round.
About The Pashmina Store
Since 2001, The Pashmina Store has been proud to offer the finest quality pure pashmina and pashmina/silk blend shawls, wraps, scarves and cashmere blankets. Customers enjoy the entire experience with quality products at exceptional values, free standard shipping in the U.S from Texas, and a satisfaction guarantee.