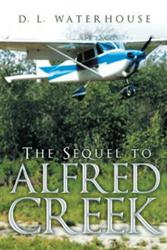 CARNATION, Wash. (PRWEB) April 03, 2012
In D. L. Waterhouse's new novel "The Sequel to Alfred Creek" (published by CrossBooks), protagonist Lou Worley exemplifies much of what Waterhouse considers best in standards of character and virtue, and through Lou's example other characters are changed.
"Today's society is in great need of role models for young people," Waterhouse says. "Role models that provide an example of citizenry, community service and responsibility. Lou Worley represents all of these things and more."
Through his interactions with the other characters – Calvin Trent, a game warden; William Shearer, a pastor and Lou's best friend; Beltray Gibbons, a young man who turns away from crime through Lou's example; and Gino Pastelli, a crime boss who finds the error of his ways – Lou Worley is able to bring about the changes in those characters that Waterhouse feels necessary in everyday life. This excerpt, as a mother reunites with her son, illustrates that:
"For the next two hours, Pam, Katie, and I sat in a circle in witness to their moment. The overwhelming, maternal love for her son, dormant in Loraine for over twenty-eight years, could no longer be hidden. She wondered year after year what he looked like. How tall was he? Was he right-handed or left-handed? Now she no longer had to wonder. Carefully, she memorized every feature; the shape of his eyes, and the creases around his mouth from his smile. Oblivious to his scars, Loraine beamed with pride. Every feature she saw in him was a mirror of herself. Beltray saw himself in her as well. Th e need he felt to connect with his roots had lain buried for too long, like a gut-ache that had lasted a lifetime. Embraced in his mother's arms, he suddenly belonged; he had found his family."
Waterhouse has high hopes for his readers. "I would like some young person to read my book and realize the power that they have over their own destiny by virtue of the decisions they will make every day of their lives," he says. "I would like them to consider carefully the ramifications of each decision, action and behavior and its effects upon everyone else."
About the Author
D. L. Waterhouse has been a truck driver for over 40 years. A longtime Christian and private pilot, he relies on his love for God, his family, and flying when writing. He lives in Carnation, Washington, with his wife, Florence.
CrossBooks, a division of LifeWay Christian Resources of the Southern Baptist Convention, is a Christian publishing imprint committed to bringing more Christian voices into the publishing industry. Established authors, first-time authors, and authors anywhere in between can meet their goals and fulfill their vision for their books by publishing with CrossBooks. CrossBooks' innovative style of publishing blends the best of traditional and self-publishing. While our authors contribute monetarily to cover the cost of publishing, we maintain a strict moral and quality standard that every manuscript must meet for us to publish. For more information on publishing your Christian book with CrossBooks, log on to crossbooks.com or call 1-866-879-0502.