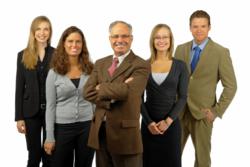 Exchequer was named the 'Best rated accounting product catering for businesses in the medium range' in an authoritative survey by the ICAEW (Institute of Chartered Accountants in England and Wales)
(PRWEB UK) 4 April 2012
IRIS Accounting & Business Solutions has been selected by Air Control & Development to provide their IRIS Exchequer accounting software and IRIS Service Director field service management software.
Established in 1994, Air Control & Development Limited, based in the West Midlands, has over 100 years' combined experience in air conditioning, ventilation systems and over-door air curtains for retail, commercial, industrial, leisure and domestic premises.
Their nationwide team of engineers cover a variety of services, including the design, installation, service and maintenance of air conditioning systems, throughout the UK.
Air Control & Development selected Exchequer accounting software and Service Director field service software, from IRIS Accounting & Business Solutions, for a truly integrated service management and finance system.
IRIS Service Director is a comprehensive service management solution used by UK businesses across a range of industry sectors, including HVAC, to optimise business-wide efficiencies, reduce time to invoice and gain unprecedented insight.
IRIS Exchequer's flexible, robust accounting software covers much more than core accounting ledgers, or cost centre and departmental budgeting. It provides all the wide-ranging automation tools needed to streamline processes and powerful reporting and analysis, enabling businesses to maintain tight financial control and gain unprecedented insight.
Find out more:
http://www.irisfieldservice.com/ / http://www.exchequer.com/
About IRIS Exchequer:
Exchequer is a mid-market business and finance management solution. Award successes include four-time winner of 'Financial Software Provider of the Year' in the Real Finance/CBI FDs' Excellence Awards (2011, 2008, 2006 and 2005).
Exchequer was named the 'Best rated accounting product catering for businesses in the medium range' in an authoritative survey by the ICAEW (Institute of Chartered Accountants in England and Wales), the industry body which also accredits Exchequer.
Clients include: Action for Kids, The Duke of Edinburgh's Award, Birmingham Institute for the Deaf, Compassion in World Farming, Chelsea Pensioners, Echoes of Service, Guideposts Trust, King's Fund, National Society of Epilepsy, The Samaritans and Wildlife Trusts.
For further information, please contact:
IRIS Accounting & Business Solutions
0844 815 5600
0844 815 5592
exchequer(at)iris(dot)co(dot)uk