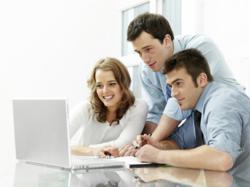 IRIS Exchequer is a flexible, robust and future proof accounting and business system. Its strong management reporting and powerful drill-down capabilities have positioned Exchequer as a leader in its field
(PRWEB UK) 5 April 2012
IRIS Accounting & Business Solutions has been selected by Raconteur Media to provide their award-winning IRIS Exchequer accounting software.
London-based Raconteur Media is a special-interest media company and publisher of high quality special reports for some of the world's leading media brands, including The Times and The Sunday Times.
They also produce bespoke publications, industry surveys and digital publishing solutions such as microsites and tablet apps, covering a vast range of topics, from business and technology, to healthcare and lifestyle.
Raconteur collates teams of leading journalists, academics, politicians and experts in their relevant fields for each project and briefs them to create content that maximises the value and experience to the reader.
They have won and been shortlisted for several industry awards over the past three years – most notably as winner of "Young Entrepreneur of the Year" at the Startups Awards 2010 and as finalist in the New Brand category at the Marketing Society Awards 2011.
Raconteur recently selected the award-winning Exchequer accounting software from IRIS Accounting & Business Solutions.
IRIS Exchequer is a flexible, robust and future proof accounting and business system. Its strong management reporting and powerful drill-down capabilities have positioned Exchequer as a leader in its field, giving organisations fast access to key business information – critical in today's fast paced world.
Find out more:
http://www.raconteurmedia.co.uk/
About IRIS Exchequer:
IRIS Exchequer is a mid-market business and finance management solution that has received a number of awards over the years. Awards success includes winning 'Financial Software Provider of the Year' in the Real Finance/CBI FDs' Excellence Awards 2011, 2008, 2006 and 2005.
IRIS Exchequer was named the 'Best rated accounting product catering for businesses in the medium range' in an authoritative survey by the ICAEW (Institute of Chartered Accountants in England and Wales), the industry body which also accredits IRIS Exchequer.
For further information, please contact:
IRIS Accounting & Business Solutions
0844 815 5600
0844 815 5592
Follow us on Twitter at @IRISaccounting