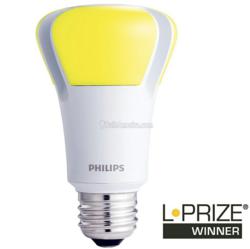 As a company, we have always focused on offering our customers the best and latest lighting bulbs and comprehensive lighting solutions that are not only efficient but also cost effective
Brooklyn, NY (PRWEB) April 02, 2012
The PHILIPS EnduraLED 10W A19 dimmable light bulb, the L prize winner of the Department of Energy contest is now available at BulbAmerica.com. This light bulb won the contest that sought an energy saving as well as an affordable alternative to the standard 60 watt incandescent bulbs that are to be phased out in the market soon. Sold at a list price of USD 89.99, this bulb is an indisputably energy-efficient and high efficacy LED accent light. However, BulbAmerica.com is offering the bulb for USD 59.95 along with free shipping for all orders above USD 50. This bulb that offers superior color rendering with 92 CRI and has a 30,000 hour rated average life is the first 60W incandescent equivalent A19 LED bulb to win the L Prize from the U.S. Department of Energy.
This light bulb is absolutely safe to use as it contains no mercury and it is known to last as much as thirty to forty times longer when compared to a standard 60W incandescent. With omni-directional light for ambient illumination and smooth dimming to 10 percent of full light levels, this light bulbs that saves 50W of energy is known for its long life and energy saving properties. A lighting expert at BulbAmerica.com explains, "As a company, we have always focused on offering our customers the best and latest lighting bulbs and comprehensive lighting solutions that are not only efficient but also cost effective" adding that "The award winning EnduraLED from Philips is available at BulbAmerica for almost 30 USD less than the standard market price."
Philips is offering a 3 year limited warranty on this product that takes energy saving and bulb life to a completely new level. Apart from being the answer to future energy needs, it represents one of the best and the easiest ways to become more energy friendly and environmentally conscious.
BulbAmerica offers a wide array of quality LED light bulbs, stage, and studio products from internationally renowned and trusted brands like Ushio, Osram-Sylvania, Feit Electric, etc. Focused on offering customers quality and energy efficient lighting products, they have been a part of the industry for about 10 years now. To take a look at the PDFs for the Philips Dimmable Compatibility and Philips EnduraLED Dimmable Compatibility and other products that are available at BulbAmerica, visit http://www.bulbamerica.com or call 1-877-650-0775.