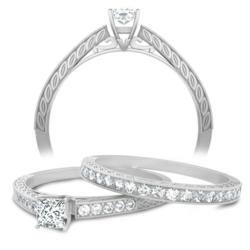 Antique engraving work on the vintage engagement rings brings back the romance in the most classic way
Cockeysville, MD (PRWEB) April 03, 2012
Leading online jewelry retailer, JewelOcean.com has created a brand new collection of Antique Engagement Rings, featuring beautiful diamond rings with antique carvings and vintage designs. The antique engagement rings collection went on sale starting 2nd April and will be featured on JewelOcean website for a limited time only.
Antique Engagement Rings are classic diamond rings that feature unique handcrafted designs and are considered to be very traditional and classic diamond jewelry. According to Mathew Bruno, manager at JewelOcean.com, the word antique would refer to an engagement ring which is over 4 decades old. He further states that while such rings are available for the consumers in the market, their availability is very limited and the prices are very expensive.
JewelOcean.com has designed its Vintage Engagement Rings collection, which features beautiful wedding ring sets and diamond rings, which are handcrafted with unique designs. These Rings are made to give customers a choice of different styles, ranging from Victorian engagement rings to art deco wedding ring sets.
Antique engagement rings are designed to give the customers a look and feel of the beautiful bygone era, where diamond rings were engraved with nature designs, scroll work designs and Celtic designs. The JewelOcean antique engagement rings collection features diamond rings with many different design works such as nature, floral and love designs.
Mr. Bruno further states that normally vintage engagement rings are meant to serve two purposes. He states that the rings are meant to serve as a promise of love that a couple shares between each other, and they also become a very important family heirloom. As such, they are often passed on from one generation to the next.
Vintage engagement rings featured on JewelOcean website comes with many different options and they can be customized by the customer according to their preferences. Customers can choose to customize these antique rings based on their choice of center diamond, Round cut or Princess cut. Customers can also customize the diamond rings based on their choice of white gold or yellow gold rings.
The antique rings collection is available on JewelOcean.com for a limited time only. Customers interested in looking at the diamond rings collection should visit the JewelOcean website online. JewelOcean has been retailing affordable engagement rings and wedding rings for over 10 years, and has received countless positive customer reviews and ratings in the process. All orders on JewelOcean come with free shipping and a refund policy.