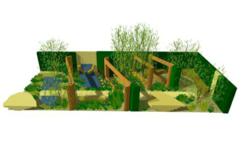 I am thrilled to be designing my first garden for Homebase at Chelsea
Milton Keynes (PRWEB UK) 4 April 2012
Award winning garden designer and broadcaster Joe Swift will be designing the Homebase Teenage Cancer Trust Garden, for this year's Chelsea Flower Show.
The garden, which is the first Joe has designed for Chelsea Flower Show, draws cultural inspiration from Joe's local area of Hackney in London. He has designed the garden to capture the power of plants and natural forms within urban and suburban environments.
Joe Swift said: "I am thrilled to be designing my first garden for Homebase at Chelsea. Inspiration has been drawn from the contrast and juxtaposition of the different areas I pass in and around the city, leading me to develop the garden with an urban oasis feel."
The garden aims to connect the garden and visitors through a series of 'views' with four large cedar wooden frames creating snapshots. These views vary as you move around the garden and to draw the eye through the long vistas of the garden, as well as playing a key role in dividing up the space into distinct 'rooms'. The combination of natural materials, water and plants invite the visitor to get close to and connect directly with the garden in an energising and original way.
Stone and wood will provide texture and contrast, appearing in stylised forms. Oversized horizontally sliced boulders and wooden sculptures decorate and punctuate the space, as well as provide garden seating to relax and enjoy the garden from. The stone has all been sourced from a single quarry in Yorkshire, with many of the plants also coming from the UK.
The sustainable garden will consist of trees such as stemmed Cornus Mas and Prunus 'Amber beauty' alongside a London Plane tree which have all be selected for their sculptural forms and the interesting colour and texture of their bark. Evergreen shrubby plants add solidity and a hint of the Mediterranean to the dry planting palette, while textural foliage and perennials inject shots of colour throughout.
The warm colour tones of gold, orange, acid yellow and splashes of burgundy will bring the dark and mid greens of the gardens base foliage to life. Combined with the yellow stone, the garden will infuse a feeling of freshness and originality.
In honour of the garden, Homebase is introducing a range of plants that have been influenced by the planting scheme for the Homebase Teenage Cancer Trust Garden.
The Chelsea Collection will be available from March 2012 and aims to inspire gardeners of all levels to re-create a bit of Chelsea magic, inspired by Joe's design and themes. All of the plants within the Chelsea Collection are covered by Homebase's five-year plant guarantee on hardy plants.
Amy Whidburn, Head of Corporate Responsibility at Homebase comments: "We are delighted to have Joe on board designing the garden this year. His vision and creativity, both in the design of the garden and Chelsea Collection planting plans, will inspire even the most novice of gardeners to grow some Chelsea magic in their own garden."
Teenage Cancer Trust is Homebase's official charity partner and is the only UK charity dedicated to improving the quality of life and chances of survival for young people with cancer aged 13 to 24. Teenage Cancer Trust fund and build specialist units within NHS hospitals where young people are treated together by teenage cancer experts in a place designed just for them.
Simon Davies, Chief Executive of Teenage Cancer Trust commented: "This is the first time that Teenage Cancer Trust has ever been part of the Chelsea Flower Show and we are very proud that Homebase have invited us to be involved. The garden promises to be an inspiring and stimulating space, a vision we also have when we build our specialist cancer units."
During press day, Joe Swift will be available to talk about his garden design, planting and inspiration. Homebase representatives will also be available, including members of the gardening team.
RHS Chelsea Flower Show will take place between 22-26 May 2012. Homebase colleagues have so far raised over £1.3 million for Teenage Cancer Trust.
About Homebase
Homebase is one of the UK's leading home enhancement retailers and is recognised for choice, style and customer service. It has more than 340 large, out-of-town stores throughout the UK and Republic of Ireland. In the financial year to February 2011, Homebase sales were £1.6 billion and it employed some 19,000 people across the business.
Homebase sells over 38,000 products across its home enhancement ranges, and has a growing Internet offering at http://www.homebase.co.uk Homebase serves over 65 million customers per year through its stores and offers customers the convenience of home delivery for bulky, high-value items.
Homebase was the first UK DIY retailer to achieve Forest Stewardship Council Chain of Custody certification and the first national DIY retailer to be recognised with a Government TrustMark Award, achieved for its kitchen installation service.
Homebase is part of Home Retail Group, the UK's leading home and general merchandise retailer.
Home Retail Group has been awarded the Carbon Trust Standard which certifies that we have genuinely reduced our carbon footprint. We call our responsible approach 'the basis of good businesses'. Find out more at http://www.thebasisofgoodbusiness.co.uk
About Joe Swift
Joe is a garden designer and well known TV personality presenting a range of gardening programmes since 1998. He is a co-founder Modular Garden- an award winning garden design and build brand and is currently President of the National Gardens Scheme.
About Teenage Cancer Trust
Teenage Cancer Trust is the only UK charity dedicated to improving the quality of life and chances of survival for the six young people aged between 13 and 24 diagnosed with cancer every day. We build specialist units within NHS hospitals bringing young people together to be treated by teenage cancer experts in a place designed just for them. We want every young person with cancer to have access to this specialist support, no matter where they live.
Traditionally treated alongside children or elderly patients at the end of their lives, young people can feel extremely isolated during treatment, some never meeting another young person with cancer.
Being treated alongside others their own age can make a huge difference to their whole experience. Teenage Cancer Trust also educates young people and health professionals about cancer to ensure a swift diagnosis and referral to specialist support. Cancer in young people is rare but we want young people to know the common signs and symptoms so they can seek medical advice if they are worried.
We rely solely on donations to fund our vital work. You can help transform the lives of young people with cancer. Visit http://www.teenagecancertrust.org to find out how.
For more information please contact the Homebase press office at iris PR:
Press office: homebase.pressoffice (at) iris-worldwide (dot) com / 020 7922 8122
Or Judith Ineson: judith.ineson (at) homebase.co.uk / 01908 600717
For further information on all Homebase products, please visit http://www.homebase.co.uk
or call 0845 077 8888.