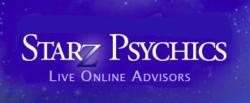 Bluffton, SC (PRWEB) April 04, 2012
April 12, 2012 marks the six month anniversary of the launch of StarZ Psychics, an innovative and fun live online psychic site. Anyone who thinks all psychic sites are the same, hasn't been to StarZ Psychics. Elegant design, landmark software and a stable of more than twenty intelligent, fully tested and certified international psychics are there to welcome visitors. The detailed Reader/Advisor profiles are available to assist in making an informed choice.
More than a decade ago, Natalie Sist, CEO and Owner of Planet Starz, Inc., started her life among the Starz. Her main thrust was to create a multi-faceted psychic community to serve the needs of those seeking spiritual wellness and inner personal peace. In keeping with those goals, she has now launched a fantastic new sister site at http://www.starzpsychics.com. This launch comes hard on the heels of the new and improved eZine, Mystic Living Today (http://www.mysticlivingtoday.com), another gorgeously designed and artfully filled publication.
StarZ Psychics is made up of a wide range of thoroughly tested and certified ethical Reader/Advisors many of whom use a newly developed live chat room which was designed exclusively for the site. The pricing schedule is extremely competitive with other so-called psychic sites and it is rumored that the Reader/Advisors are very fairly compensated.
The target audience has been from among a wide variety of individuals from all around the globe. Even though home base for the site is a tiny town in South Carolina, it's reach is international. The site's motto is, "If you can access the Internet, you can access Planet StarZ".
Considering the unemployment rate in this country, it's refreshing to note that this site is creating employment job opportunities for an underserved talent pool. As independent contractors, the Reader/Advisors can work as little or as much as their lifestyle allows.
Clients already have nothing but good things to say about StarZ Psychics. "I think StarZ Xxx is a wonderful reader! Very kind, compassionate and funny. I love her!" and "StarZ Xxx is awesome! All hail StarZ Xxx! No matter what is going on in life, good or bad, she's there for encouragement and kind words. Thanks so much!"
About StarZ Psychics
StarZ Psychics is the Internet's Leading Metaphysical and Live Psychic Community. Enjoy your private reading in our state of the art chat room. None like it anywhere else. We have a variety of amazingly talented Advisors with special talents including psychics, channelers, tarot card readers, clairvoyants, spiritual advisors, clairaudients who can assist you in answering your questions and more importantly guiding you to a new level of spiritual health.
First time visitors to the site can take advantage of an introductory special of $1.49 for the first five minutes with one of our talented Psychic Reader/Advisors.