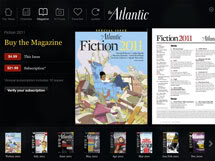 RareWire was a tremendous asset to us in bringing our app to market very quickly, and in developing and delivering the full potential of our app for mobile users.
KANSAS CITY, MO (PRWEB) April 02, 2012
RareWire, LLC (http://www.rarewire.com), a leading app development services and software company, and The Atlantic today announced the companies earned two prestigious 2012 Appy Awards for The Atlantic Magazine Digital Edition.
Launched in July 2011, The Atlantic Magazine Digital Edition app beat out a wide range of competitors in the categories of Business Media App and iPad Publishing. RareWire was brought in by The Atlantic to develop the iOS native app for mobile devices.
"Zite-like in appearance, this classy app not only aggregates news with 10 various feeds of content, including The Atlantic Wire and In Focus, but also has the full capability of The Atlantic itself. Easy to navigate, it caches content offline and allows for individual issue purchases and subscriptions," wrote MediaPost, organizers of the awards program.
"Our flagship app enables uninterrupted access to all of The Atlantic's award-winning content in a single app. It provides our readers with multimedia extras, incredible photography, fast-paced news curation and more—all at their fingertips," said Scott Havens, senior vice president of Finance and Digital Operations for Atlantic Media Company.
Havens continued, "RareWire was a tremendous asset to us in bringing our app to market very quickly, and in developing and delivering the full potential of our app for mobile users."
"We're very pleased to win Appy Awards for our work on The Atlantic's app. They had a clear vision of what they wanted, and we quickly and successfully executed on that vision," said Kirk Hasenzahl, CEO of RareWire.
"Our App Creation Studio software provided a huge advantage for The Atlantic app," Hasenzahl continued. "As an app building platform, the software provided us the tools needed to build a true native app, while still curating up-to-the-minute web content feeds from 10 different web sources of the Atlantic Media Company."
"One of the key differentiators that makes The Atlantic app a standout is, because it is a native app, it has the ability to store the content and make it available offline as well, unlike web-based news apps," said Hasenzahl.
Judged by a panel of mobile industry leaders, the Appy Awards acknowledge extraordinary applications across devices, platforms and carriers. The awards focus on honoring the best apps in a diverse range of categories, from games and news, to health and fitness, social networking, photography and many others.
About The Atlantic
Since its founding in 1857 as a magazine about "the American Idea" that would be of "no party or clique," The Atlantic has been at the forefront of brave thinking in journalism. One of the first magazines to launch on the Web, The Atlantic has continued to shape the national debate across print, digital, and event platforms. With the addition of its news- and opinion-tracking site, TheAtlanticWire.com; TheAtlanticCities.com on global cities; and Atlantic LIVE, the industry-leading events division, The Atlantic is a multimedia forum on the most-critical issues of our times, from politics, business, urban affairs, and the economy, to technology, arts, and culture. The Atlantic is the flagship property of Washington, D.C.–based publisher Atlantic Media Company.
About RareWire
RareWire, LLC (http://www.rarewire.com) is a software and services company dedicated to enabling the creation of native apps on iPads and other mobile devices at a significantly reduced cost in a much faster timeframe. RareWire has built a software platform that requires the skillset of a web designer, rather than a programmer, to build native apps in hours or days that would typically take programmers weeks or more to build. Stay tuned for product news from RareWire in the coming weeks. Visit http://www.rarewire.com today to sign up for the RareWire beta program.