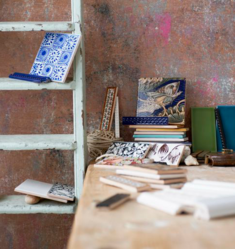 Homebase worked closely with the V&A team and this is the first incarnation of the designs inspired by the museum's collection of ceramics and art
Milton Keynes (PRWEB UK) 4 April 2012
Homebase is delighted to launch the stunning new tile range from the Victoria & Albert Museum, the world's leading museum of art and design.
There are a total of 42 designs in the range, with a wide variety of styles including statement tiles, borders and plain coordinates. The collection is hand crafted from fine clay and coated with a rich coating of gloss that affords the tiles its high shine and mirror smooth surface.
All feature tiles from the V&A tile range at Homebase. The V&A collection is both luxurious and varied, with designs spanning centuries. As a result, this range takes the famous tile designs of the 19th century and presents them to suit 21st century tastes. The collection offers fine, classic designs with elegant and distinctive results.
Amy Dietrich, buyer in tiling at Homebase says: "Homebase is delighted to have collaborated with the Victoria & Albert Museum on this exciting new range. The range includes prints from some of the finest designers of the 19th and 20th century and has been chosen to reflect the traditional look many homeowners strive for. Homebase worked closely with the V&A team and this is the first incarnation of the designs inspired by the museum's collection of ceramics and art".
Each motif is rich in heritage and history with a story to accompany each design. The Fish Panel tile was designed by William De Morgan (1895-1910), one of the most original craftsmen of the Arts and Crafts Movement. His tiles and pottery designs were used in the schemes of grand houses such as the Arab Hall in Lord Leighton's house in London and the smoking rooms of P&O Liners.
The fish panel is the most recognised of De Morgan's tile designs and was created by revisiting the original watercolour in the V&A archives. The tile is available at Homebase in the familiar four-tile panel and a smaller two-tile panel.
This baroque border tile was designed by Owen Jones (1809-1874), an architect, designer and theorist who believed that design excellence could only originate from the study of design history. His famous book The Grammar of Ornament (1856) became an invaluable and imitated source book on pattern making for British manufacturers.
The tile collection is sewn together through various threads of design history and stands as a beautiful testament to British design throughout the centuries. The range is now available in Homebase stores nationwide.
For more information please contact:
jessica.lovell(at)iris-worldwide(dot)com / 020 7101 7846
Homebase.pressoffice(at)iris-worldwide(dot)com / 020 7922 8122
Notes to editors
Tile range
Statement tiles: 9
Plain coordinates: 9
Borders: 24
Fish Panel tile
V&A Fish Panel Set of 2 Tiles - 15x7.5cm per tile
£19.99
V&A Fish Panel Set of 4 Tiles - 15x7.5cm per tile
£47.99
Baroque border tile
V&A Baroque Tile - 15x3.7cm
£4.79
Stockist details
Web: http://www.homebase.co.uk
Telephone: 0845 077 8888
About Homebase
Homebase is one of the UK's leading home enhancement
retailers and is recognised for choice, style and customer service. It has more than 340 large, out-of-town stores throughout the UK and Republic of Ireland. In the financial year to February 2011, Homebase sales were £1.6 billion and it employed some 19,000 people across the business.
Homebase sells over 38,000 products across its home enhancement ranges, and has a growing Internet offering at http://www.homebase.co.uk Homebase serves over 65 million customers per year through its stores and offers customers the convenience of home delivery for bulky, high-value items.
Homebase was the first UK DIY retailer to achieve Forest Stewardship Council Chain of Custody certification and the first national DIY retailer to be recognised with a Government TrustMark Award, achieved for its kitchen installation service.
Homebase is part of Home Retail Group, the UK's leading home and general merchandise retailer.
Home Retail Group has been awarded the Carbon Trust Standard which certifies that we have genuinely reduced our carbon footprint. We call our responsible approach 'the basis of good business'. Find out more at http://www.thebasisofgoodbusiness.co.uk