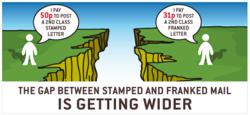 Even with recent Royal Mail price increases, there are a number of ways to keep your mail costs low.
Romford, Greater London (PRWEB UK) 2 April 2012
Neopost Limited announced today that there are practical ways to mitigate the recently announced Royal Mail price increases without damaging your business.
Communicating effectively, with your customers and prospects, is essential for any organisation. Communications assist in both customer retention and initiating new business acquisition. Best practice indicates that regular communications with strong simple messages are the most effective.
Cost Effective Communications
Of course, there is a cost in communicating effectively, but this can be offset by the additional revenues gained. For example, the Direct Marketing Association calculates that for every £1 spent in direct marketing on average £14 additional revenue can be generated.
Mail remains an important element of communications. It is the only way to reach some customer groups and a reliable way to send valuable documents. Royal Mail research from 2010 shows that people prefer electronic communications to be offered as an option alongside hard copy mail rather than as a substitute for it. Its analysis of bank customers found that 73% would feel inconvenienced if they no longer received paper statements.
Even with recent Royal Mail price increases, there are a number of ways to keep your mail costs low:
1. Use Franked Mail
You can save 19p on a 2nd class letter and 16p on a 1st class letter sent and up to £1.41 on a 2 kg packet by switching from stamps to franked mail.
2. Utilise 2nd Class Postage
By simply moving from 1st to 2nd class you can save 13p on every letter sent, saving an additional 29%.
3. Take Advantage of Pricing in Proportion
Size based pricing was introduced by Royal Mail in 2006. Make the most of this scheme by switching from C4 envelopes to C5 or DL envelopes and enjoy a saving of 22p per letter which is a 41% saving.
4. Harness Postal Discount Programmes
A number of discounting programmes are available from postal service providers. For example, if you send 500 items in one batch you could access Royal Mail's Business Mail Service, saving 16% against standard postal tariffs. Royal Mail also offer volume related discounts, beginning at 1000 letters, these discounts save a further 1.5% to 7.5% on the cost of postage. By combining Business Mail and volume related discounts, businesses which send between 500 and 25,000 letters per mailing can save a further 16% to 23.5% off the cost of franked mail.
5. VAT Services
If you are regularly using VAT liable postal products, such as Special Delivery 9am or Business Mail, you could claim back the VAT by using a SMART technology franking machine. Neopost's range of IS SMART franking machines are VAT compliant.
6. Rationalise mailings
Save on postage and material costs by combining multiple mailings to a single addressee into one envelope
7. Assess Address & Database Quality
Royal Mail destroys on average 25 million letters, packets and parcels every year. Beyond postage costs, this undelivered mail means extra cost and damaged reputations for your business. Business critical mail and transactional mail such as legal documents, cheques, invoices and statements go undelivered, leading to delayed payments or reduced customer satisfaction impacting on costs, revenue and cashflow.
Marketing mail doesn't get delivered, meaning missed opportunities and reduced campaign ROI. Address correction software is available that can clean data effectively, against Royal Mail PAF address file, reducing the level of wastage in any mailings.
Find out more about the gap between stamps and franked mail.