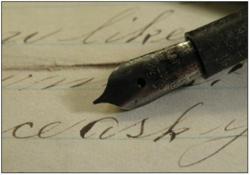 Every creative act proceeds in the exact same manner; it is ever a stepping back, a release of the judgment or grievance, and letting the love extend.
Wisconsin Dells, WI (PRWEB) April 02, 2012
Ray Comeau of A Course In Miracles International has begun a series of public Creative Writing Workshops designed to facilitate and "hone the writing skills" of those who are inspired to share their experiences of forgiveness in writing; for the celebration of International Forgiveness Week and Weekend of Perfect Peace, September 14 - 23, 2012.
The workshops, free and open to the public, will be held weekly in the beautiful "Bridge" upstairs at the Cheese Factory Restaurant in Wisconsin Dells, WI.
Event Coordinator, Ray Comeau, an accomplished author and Course In Miracles teacher for over two decades, uses, among others, the tried and tested methods suggested by Natalie Goldberg in her bestselling classic, "Writing Down The Bones". "In a particular sense," says Comeau, "it is almost impossible to teach someone to write. We try to create the environment and conditions that allow the innate story teller within the individual to emerge. Everyone has a 'voice', and can be encouraged to find it and use it."
"I might add," continued Comeau, "these classes seem to be, as much if not more, for my benefit than for anyone's! I always go home enriched by the gift of profound insight offered by participants in their writing. I am truly grateful to have the opportunity to conduct these very enjoyable workshops, and whole-heartedly welcome everyone to give them a try, whether or not you think you can write."
Ray Comeau goes on to say, "The process is, without exception, an act of 'stepping back and letting Him lead the Way.' You really are the Way, the Truth and the Life. By letting go the internal critic, the Light shines through. Every creative act proceeds in the exact same manner; it is ever a stepping back, a release of the judgment or grievance, and allowing the love to extend. Workshop participants are invariably amazed and at the same time, thrilled by the elegance and beauty of the prose (or poetry) that emerges from within them."
"Forgiveness is the same act. You do not really realize that your grievances act as a barrier to your joy, creativity, and peace, until you let them go. When those barriers are released in forgiveness, you discover by your direct experience of deep and abiding peace, that it is only yourself you forgive."
Participant Gloria Giraldo breathlessly summed up her experience of the workshop saying, "I am so grateful to be in this exact moment. Wow! I am excited to be in the present now and to flow with the energy. Thank God! Oh my God! How exquisite everything becomes when I flow into the waves of calm and joy. This torrent is navigated by my jumping in, letting the river carry me and simply enjoying the ride."
For more information about the Writing Workshops, or to submit your Forgiveness Experience story to Ray Comeau, visit: http://www.forgivenessweek.org/writing.php.