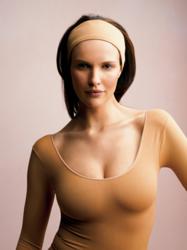 "It's like a cosmetic cream in a fabric form," says Susan Ledyard, President / Designer of CASS AND CO.
(PRWEB) April 24, 2012
New ANTI-AGING SHAPEWEAR combines CASS LUXURY SHAPEWEAR's innovative styling with Cupron copper infused yarn. CASS' latest collection, wear REPAIR, improves the look of skin tone and texture. It also slims, shapes, and lifts and is made of a natural anti-bacterial fabric that protects outer clothing from stain and odor.
CASS' wear REPAIR brand with a major beauty retailer, will launch its new collection that combines CASS innovative patented design and Cupron scientific copper yarns that are clinically proven to improve the look of skin tone and texture as oxygen is drawn to the surface of skin while worn. It restores the look of healthy glowing skin and protects outer clothing from stain and odor, maintaining a fresh appearance all day. Susan Ledyard, founder of CASS AND CO., says, "The 'cosmetic fabric' is like a firming cream in a fabric form." The fabric, containing 66% raw copper, maintains its natural benefits and stretch for the life of the garment.
"Cupron's partnership with CASS creates unparalleled synergy in the luxury shapewear category, fusing Cupron's patented, skin-enhancing, odor-eliminating technology with the comfort, style and slimming qualities that have made CASS a leader in its field," said Paul Rocheleau, chairman, Cupron, Inc. "This marriage of best-of-breed technologies will enhance CASS's high-end products with the unique benefits of copper – an essential mineral in the human body. We are excited to be working with CASS on this important product line."
Information on Cupron's technology can be found at http://www.cupron.com.
CASS AND CO. was founded in 2004 by Susan Ledyard and was inspired by her necessity for the perfect undergarment, her years in dance, a family background in design and a career in business management. The brand is an innovative American shapewear brand known worldwide for its fashion-forward styling, shaping and slimming collections that are scientifically engineered with exclusive performance yarns, and its patented torso called Invisupport®. CASS is a favorite of A-list celebrities and stylists such as Rachel Zoe, and has been featured on Rachel Ray and in several magazines including InStyle, Oprah, New Beauty, Vogue, Martha Stewart, Apparel Magazine and many others. CASS 2 in 1 Half Slip was recently featured on "Gossip Girl" and is a favorite of Jill Scott and Queen Latifah.
CASS can be found in luxury boutiques, department stores and health and wellness leaders worldwide including Bloomingdales, Anthropologie, BLISS, Kirna Zabete, Lane Crawford, Greenbriar and Quartier 206; they can be found online at http://www.cassandco.com.