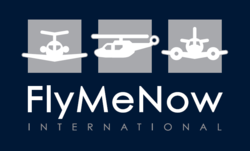 Flight reservations have started much earlier this year
(PRWEB UK) 4 April 2012
Formula One fans aren't letting the recession spoil their need for speed: record numbers have booked a private helicopter for the British Grand Prix, according to private air charter firm FlyMeNow.
For the past few years, FlyMeNow has organised private helicopters for countless corporate and private clients and hardcore F1 fans looking to arrive at the British Grand Prix in style.
The company has its own hospitality area at Silverstone, and offers both bespoke private helicopter charter, and a helicopter shuttle service to the track.
Andrew Whitney, commercial director for FlyMeNow, said more F1 fans than ever before had booked their private helicopter early for the British Grand Prix, which takes place in July.
"Flight reservations have started much earlier this year," he said. "We've been arranging flights to the Grand Prix for a number of years now – this year has been the busiest yet. Demand has literally skyrocketed."
FlyMeNow offers different fleet options depending on location and choice of helicopter. Passengers can choose from a three to four seat Bell Jetranger right up to the super-fast 160mph Sikorsky S-76, which can carry up to nine people. Prices range from £445 to £695, excluding VAT.
"The options are limitless," Andrew Whitney explained. "We can pick up a client by helicopter from their preferred location, or arrange a car to bring them to the London Heliport Battersea, or Cranfield Airport, and fly them in from there."
To make things really easy for passengers, FlyMeNow operates an exclusive helicopter shuttle service from Cranfield Airport. The shuttle package includes bespoke flight times, a continental champagne breakfast, free newspaper, and courtesy car.
Cranfield Airport boasts ample parking and is easily accessible from Junctions 13 or 14 of the M1.
With many years spent honing their race-day packages, FlyMeNow offers peerless service for F1 fans seeking the ultimate day out at Silverstone. Their hospitality areas at Cranfield and Silverstone have dedicated staff to ensure passengers are entirely satisfied.
"It is this dedication to customer service which makes us stand out," said Andrew Whitney.
"The British Grand Prix is one of the most exciting events in our sporting calendar – and most F1 fans will have spent a fair amount on tickets for the three-day spectacle. F1 is all about luxury, speed and engineering, and there's no better way to arrive at Silverstone in style than by private helicopter.
"This explains why FlyMeNow is growing so quickly. We recently posted our biggest yearly turnover, while our competitors have slipped and have downgraded their profit targets."
For more information about private helicopter charter and Formula One hospitality packages for Silverstone, visit http://www.flymenow.co.uk.
ENDS
Notes for editors:
For more information, contact Rick Beasley at FlyMeNow on +44 (0)207 100 9000.
About FlyMeNow International:
Private air charter firm FlyMeNow International is based in the Old Control Tower at Kent International Airport. It also runs offices in York, Milton Keynes, and Melbourne, Australia.
FlyMeNow offers a full air charter service, including private jet charter, through their website at http://www.flymenow.co.uk.
Established in May 2007, FlyMeNow International completes hundreds of private charter flights each year.
The firm's client base ranges from CEOs of global multinational corporations to VIP parties heading to events such as Royal Ascot and the British Grand Prix. Their range of private jet, helicopter and turboprop aircraft suits all needs and tastes, with options including Lear jets, Citation jets and Eurocopter helicopters.
About the British Grand Prix:
The British Grand Prix is a three-day Formula One motor racing event, held at Silverstone racetrack in the UK. It will take place from July 6 to 8, 2012.
For more information, visit http://www.silverstone-grand-prix.com