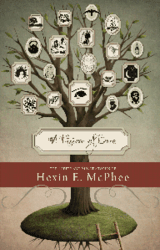 This new collection of poetry and short stories offers a bittersweet tenderness, reaching out to those searching for answers and affirmation.
Rancho Santa Margarita, CA (PRWEB) April 04, 2012
The author's distinctive way of expressing relationships of all types provides a new way of looking at the human soul. From relationships with God to those of parent and child, this new collection of poetry and short stories offers a bittersweet tenderness, reaching out to those searching for answers and affirmation. The eclectic black and white artwork accompanying Hexin McPhee's words ranges from photos to sketches, adding to the book's unique feel.
In A Vision of Love, McPhee presents poems and stories from the heart. "The Prayer" speaks to those facing challenges, showing the way God's love can bring peace. "Losing myself in this tapestry of God's majestic painting, the brilliant colors of the flowers, the sound of the river's gentle flow, the fragrance of a new day. The vibrant sounds of nature permeate my soul. It was then I felt the presence of God," the author writes. "Hopscotched" features a moment when a young child realizes he has lost his father and "his mind hopscotched from one memory to another." In the end, McPhee's words provide inspiration, such as the sentimental "Hands," which offers a heartfelt tribute to a mother's hands, which offer protection, comfort, and love.
Author Hexin E. McPhee was born in the Bahamas, the son of entrepreneurs. Inspired by Sidney Poitier's acceptance speech for his Oscar, McPhee decided to explore acting, joining the University Players in Nassau. He attended the American Academy of Dramatic Arts in New York City, returning to direct the University Players. He studied theater at Pierce College and California State University Northridge. McPhee earned a role in "The Star Chamber" in 1983. He continues to study acting. He began sharing his poetry with others only a few years ago.
----------
For additional information, please visit http://www.visionoflovebook.com.
A Vision of Love: The Poetry and Short Stories of Hexin E. McPhee
Hexin E. McPhee
Dog Ear Publishing
ISBN: 978-1-4575-0743-4 104 pages $15.00 US
Available at Ingram, Amazon.com, Barnes & Noble and fine bookstores everywhere.
About Dog Ear Publishing, LLC
Dog Ear Publishing offers completely customized self-publishing services for independent authors. We provide cost-effective, fast, and highly profitable services to publish and distribute independently published books. Our book publishing and distribution services reach worldwide. Dog Ear authors retain all rights and complete creative control throughout the entire self-publishing process. Self-publishing services are available globally at http://www.dogearpublishing.net
and from our offices in Indianapolis.
Dog Ear Publishing – self-publishing that actually makes sense.