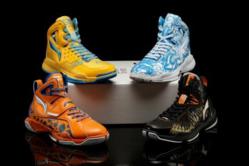 Chicago, IL (PRWEB) April 02, 2012
Li-Ning, a leading athletic footwear and apparel company founded by Chinese Olympic medal-winning gymnast Li Ning, today announced the release of its limited edition Year of the Dragon basketball shoe collection to the U.S. market. Only 44 pairs of each style are available for sale.
Available immediately on the Digital Li-Ning website, the series includes two new designs for the signature Li-Ning Turningpoint shoes – "Porcelain" and "Emperor's Robe" – as well as two unique new styles labeled "Hero" and "Villain." The special edition line was designed in honor of the Year of the Dragon, which occurs every 12 years in Chinese astrology and symbolizes Eastern principles that drive the Li-Ning brand. This year in particular is personified by characteristics of mastery of authority and ambition.
"The Year of the Dragon limited editions are not only visually appealing because of the unique artistic design, but they also connect us to our Eastern roots in another initiative in our yearlong promotion of the Chinese Year of the Dragon," said Craig Heisner, VP of Marketing, Sales and Merchandise for Digital Li-Ning. "We've already received great feedback on the design through our social media platforms, and we're excited to be able to offer some unique shoe styles to the U.S. market. We hope that it will only add to the success we've experienced in the U.S. in such a short time."
The blue and white Porcelain Turningpoint shoe made its debut during the 2012 NBA All Star Weekend, worn by Philadelpha 76ers' Evan Turner during the Rising Stars Game. Turner, an official Li-Ning endorser, was also born in 1988 which was the last year of the dragon.
Designed to incorporate thousands of years of Chinese art and culture, the styles each have their own meaning. For instance, the Emperor's Robe is named for the bold yellow hue worn by rulers of the Tang Dynasty, while the Porcelain's intricate, hand-drawn pattern was inspired by ancient Chinese porcelain vases depicting a dragon.
All four shoe styles are now available for sale at $175 per pair. Limited sizes are available.
To view Li-Ning's U.S. product line and learn more about the brand, visit http://li-ning.com.
About Digital Li-Ning
Digital Li-Ning is a joint venture between Acquity Group, a leading Brand eCommerce and digital marketing company, and Li-Ning, a leading sportswear brand that inspires athletes—body, mind and spirit—and empowers them to stand apart from the ordinary. Digital Li-Ning was formed to introduce the Li-Ning brand to the U.S. market as part of Li-Ning's efforts in exploring overseas market expansion opportunities, and it is managed from Chicago. For more information, please visit http://li-ning.com.