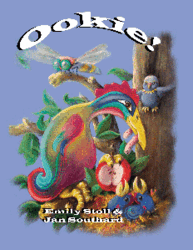 Fanciful illustrations by co-author Jan Southard bring this heartwarming story to life.
CHESAPEAKE, Va. (PRWEB) April 04, 2012
Nannies come in all shapes and sizes, and Ookie is no exception. This new children's book tells her charming story. Ookie is an ookcuc bird, the complete opposite of a cuckoo bird, which lays eggs in another bird's nest to trick the bird into caring and feeding for the cuckoo's chick. Unlike a cuckoo, Ookie loves to care for other birds' babies. The birds in the forest, however, don't understand that, so they chase Ookie away when she tries to help feed and watch over for their babies.
"Ookie!" follows this gentle bird's attempts to help parents who see her only as a traditional cuckoo bird and pest. Although Ookie saves a nest from a snake, the parents aren't around to see, so they chase Ookie away. The next time the birds in the nest face danger, however, it's a different story. Ookie saves the day, and the grateful parents let her help take care of their babies. Eventually her dream comes true, and Ookie becomes the official nanny of the magical forest. Fanciful illustrations by Jan Southard bring this heartwarming story to life.
Author Emily Stoll and illustrator Jan Southard live and work in Virginia. They met through PEO, an international organization devoted to giving women educational opportunities. Jan's concept and artwork inspired an expanded storyline by Emily. They hope to work together on more Magical Forest books.
----------
For additional information, please visit http://www.magicalforestbooks.com.
Ookie!
Emily Stoll and Jan Southard
Dog Ear Publishing
ISBN: 978-1-4575-0709-0 28 pages $12 US
Available at Ingram, Amazon.com, Barnes & Noble and fine bookstores everywhere.
About Dog Ear Publishing, LLC
Dog Ear Publishing offers completely customized self-publishing services for independent authors. We provide cost-effective, fast, and highly profitable services to publish and distribute independently published books. Our book publishing and distribution services reach worldwide. Dog Ear authors retain all rights and complete creative control throughout the entire self-publishing process. Self-publishing services are available globally at http://www.dogearpublishing.net
and from our offices in Indianapolis.
Dog Ear Publishing – self-publishing that actually makes sense.