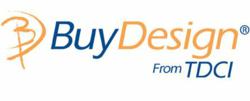 With version 8 we are keeping BuyDesign on the cutting edge of technology while continuing to deliver proven and stable solutions.
Columbus, OH (PRWEB) April 03, 2012
TDCI, Inc., the leading provider of product configuration software, announced today the release of BuyDesign 8, the newest version of TDCI's Product Configurator and Guided Selling solution suite. BuyDesign 8 delivers new mobility and productivity capabilities that enable both partner channel and direct sales teams to configure, price and quote in more places, on more devices, faster, and more intuitively. It also enables companies to use BuyDesign with the latest versions of ERP systems from Microsoft, Infor and others, and with popular CAD systems from SolidWorks, PTC and AutoDesk.
BuyDesign is a comprehensive solution developed to streamline sales, engineering and manufacturing processes for customized products. BuyDesign helps companies that manufacture products with a wide range of features, options and dimensions increase sales by becoming 'easy to do business with.' Using BuyDesign, companies are able to reduce order processing time, cost and errors.
With a theme of 'Productivity Redefined", key BuyDesign 8 features include:

Mobility – use the full BuyDesign experience on the go and in exciting new ways on iPad and other tablets and smart phones with Apple iOS, Windows Phone or Android mobile operating systems.
More Web browsers – use BuyDesign with the most popular browsers, including IE9, Chrome, Safari and FireFox.
App framework – easily add launch points to customized applets, web pages, documents, videos and other functions right from the same screen you use to access BuyDesign entities.
A whole new way of working – breeze through quoting and other tasks faster than ever without the need to 'save' information or navigate through several menus.
Expanded internationalization – present BuyDesign in multiple languages; integrate with international tax solutions and easily store addresses for anywhere in the world.
In addition, BuyDesign 8 includes many other enhancements to further improve user productivity and expand deployment flexibility.
"We are excited about BuyDesign 8 for multiple reasons," said Mike Stelzl, Wausau Supply IT/Applications Manager. "We've already shown it to some of our dealers and they really like how it will further speed the quoting process. And the new mobility capabilities will make it even easier for our dealers to quote and order products when they are at customers' homes or offices."
"BuyDesign 8 is the result of extensive user input, as well as advances in technology and collaboration with partners," said Dan DeMuth, TDCI President. "Besides offering significant acceleration of the quoting process, it opens up a lot of exciting new opportunities for where and how companies and their channel partners perform their selling activities."
"With version 8 we are keeping BuyDesign on the cutting edge of technology while continuing to deliver proven and stable solutions," added Dinesh Dhamija, TDCI Chief Strategy Officer and Senior Vice-President. "To further that cause, we have introduced HTML5 and CSS3/W3C standards compliance to enable the full BuyDesign experience in multiple UI form factors and browsers. We have also evolved the UI toward the "App" and "Tile" paradigms being set as the standards by Apple and Microsoft respectively. That may all sound pretty technical, but what it really does is make everything more flexible and easier for the user."
BuyDesign 8 is available immediately for shipment to new and existing customers.
About TDCI and BuyDesign
TDCI specializes in helping manufacturers and their distributors streamline the buying process for customized products. TDCI's BuyDesign® software is a comprehensive web-based product configurator and guided selling solution developed to help companies increase sales by becoming 'easy to do business with' while improving profitability by reducing order processing time, cost, and errors. Built using a powerful product configurator, BuyDesign provides modular applications for guided product selection and configuration, product visualization, quoting and ordering, drawing and data generation, consumer interest creation, and more.