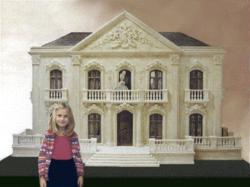 Grass Valley, CA (PRWEB) April 03, 2012
Constance Romweber thinks big. She spent most of her career designing architectural elements, museum exhibits and stage sets, until she decided to pursue a passion from her youth - cakes and chocolates. "This chocolate dollhouse is the result of months of experimentation with different combinations of ingredients," she explained. "You can't just pour a bunch of chocolate into a mold and stand it upright. A structure this size requires major engineering. I wanted to prove to myself that we were capable of creating such a large piece and making it utterly delicious. We feel that oversized confections, whether chocolate sculptures or cakes, will be a very important part of special events going forward. What's more fun than taking something really big, demolishing it and eating it?"
Pastry chefs have been creating sugar sculptures for centuries that are considered 'edible,' but the only way you would try consuming one is if you were stuck on a desert island with nothing else in sight. With ingredients like gum tragacanth, tylose and white vegetable fat, traditional sugar sculptures dry tooth-crackingly hard and would never be called 'delicious' by any stretch of the imagination.
Romweber has always insisted that her creations be as wonderful to eat as they are beautiful, so she makes them with only the finest quality ingredients - couverture quality chocolate, gooey caramel, and silky mousse - to name a few.
Of course, Romweber doesn't limit herself to the edible. "My background allows us to say 'yes' to almost every request," she explained. "If a birthday buffet requires a custom medallion, cookie display and party favor boxes, we can accomodate the client, making us a one-stop-shop for event planners. They know they can rely on us for excellence in every detail."
Constance Romweber Confections moved headquarters recently. "We made the move to accomodate the needs of both our employees and our clients," said Romweber. "Our employees need a friendly, safe environment in which to raise their families. As a company, we need space to work on ever bigger projects like the dollhouse. This facility provides that space with plenty of opportunities for future expansion."
About Constance Romweber Confections
Opened in 2006, Constance Romweber Confections specializes in elegant wedding cakes, chocolate sculptures, petits fours and event decor. They ship and deliver nationwide.
111 Bank St.# 203 Grass Valley, CA 95945 530.477.1784 Contact us