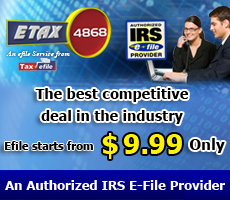 File Form 4868 Today by visiting Etax4868.com
(PRWEB) April 02, 2012
Etax4868.com is designed to help users in E-filing Form 4868- a request for tax extension. Etax4868 is dedicated to assisting users across the country in gaining an extension on Individual Tax Returns. Etax 4868 is an IRS Authorized E-file Provider through the IRS Fire System dedicated to offering E-filing services to every tax payer across the United States.
Form 4868 is officially known as - Application for Automatic Extension of Time To File U.S. Individual Income Tax Return.
Use Form 4868 to apply for 6 more months (4 if "out of the country" (defined on page 2) and a U.S. citizen or resident) to file Form 1040, 1040A, 1040EZ, 1040NR, 1040NR-EZ, 1040-PR, or
1040-SS.
Users Must File Form 4868 by April 17, 2012. Fiscal year taxpayers, file Form 4868 by the regular due date of the return.
Generally, The IRS cannot extend the due date of your return for more than 6 months (October 15, 2012, for most calendar year taxpayers). However, there may be an exception if you are living out of the country.
Visit http://www.etax4868.com for more information or to Begin Filing today!